400 Series
Model

400D 1.3L


Liquid

-

Cooled

Diesel

Offering powerful performance that makes quick work of even the toughest jobs, the Model 400D 1.3L balances brute strength with a compact design to deliver the picture-perfect cut turf care professionals expect.

Deck Sizes: 155 cm, 183 cm
Mowing speeds up to 17.7 KPH and 2.92 hectares/hr. based on 183 cm cutting width.*
*Actual results may vary. Click Here for Details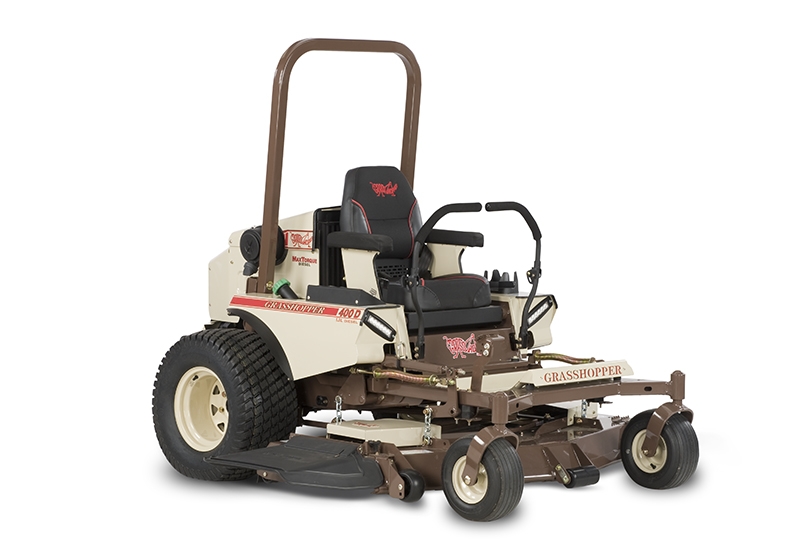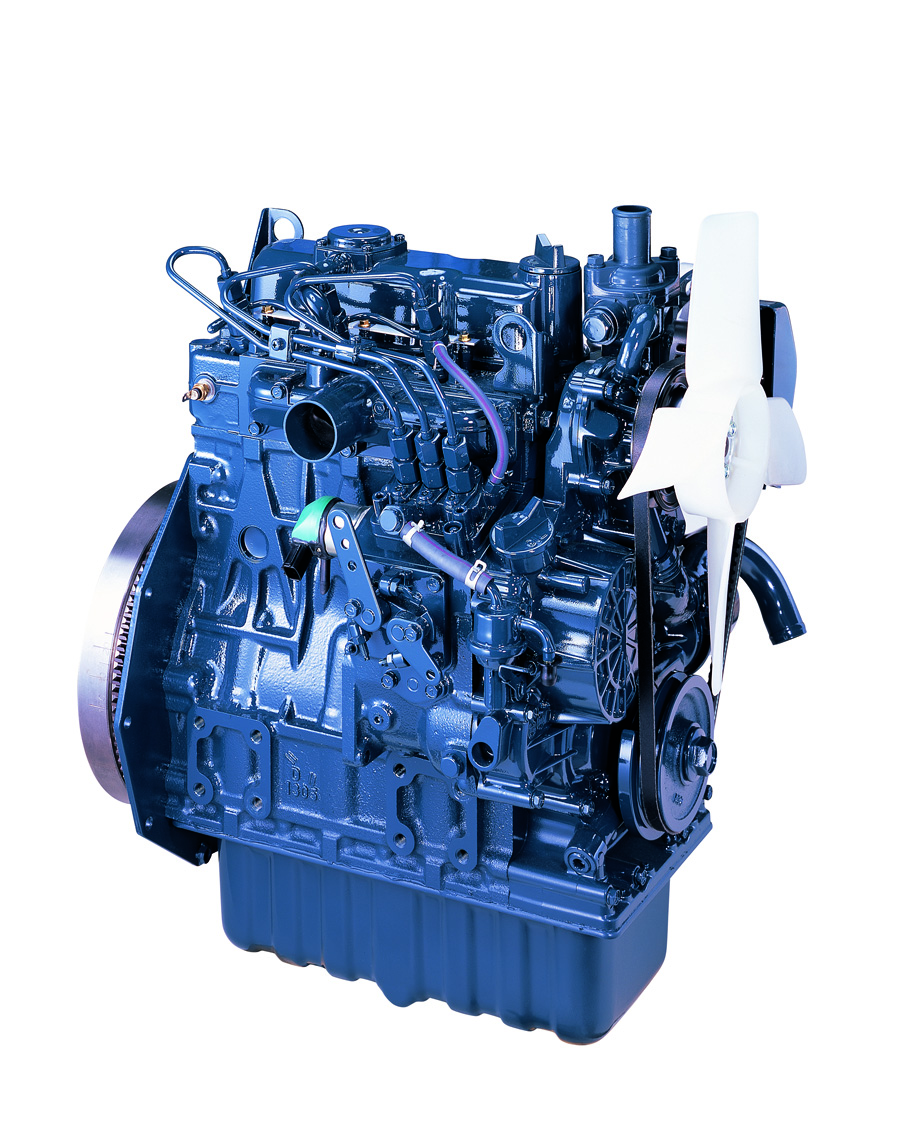 Kubota MaxTorque™ Diesel
1300 cc, 3-cylinder, liquid-cooled Kubota MaxTorque™ diesel engine with horizontal crankshaft and pressure lube for smooth, reliable operation
---
Design-Matched G2 Transmission
Robust G2 transmission with auxiliary cooling fans, HydroGear 21cc variable displacement piston pumps and high torque Parker hydraulic motors at each wheel.
CoolFan™ hydraulic oil cooler with 7 micron filter for efficient cooling.
It offers smooth response and requires less maintenance thanks to an improved transmission fluid change interval of 1,000 hours.
---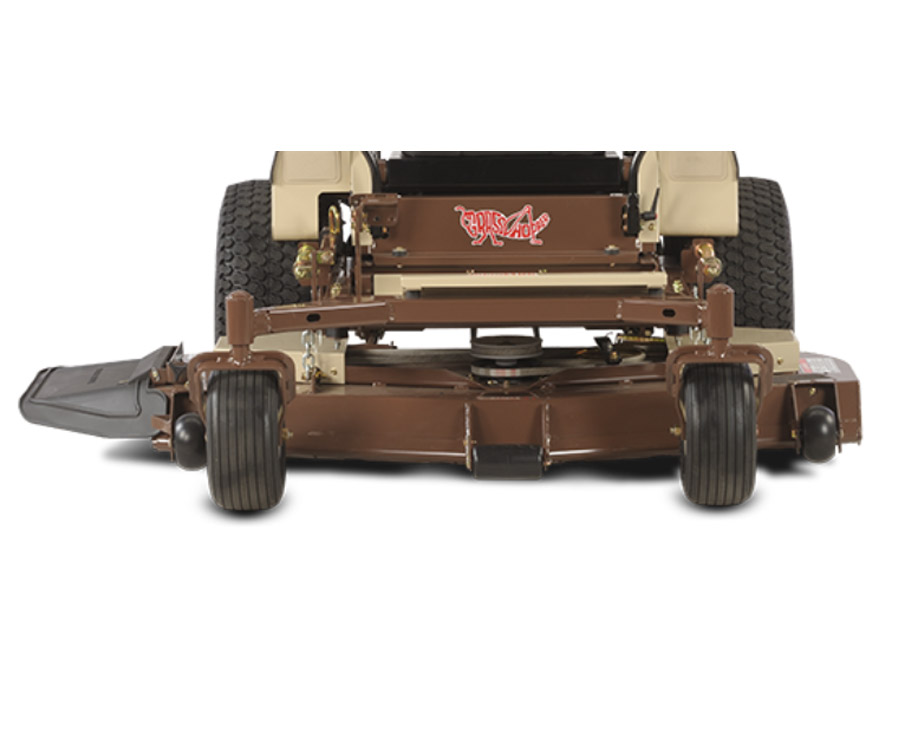 Heavy-duty Deck
Extra-deep, 5.5-inch deck is fabricated from heavy-gauge formed steel with a reinforced anvil edge
Specially designed cutting chambers enhance airflow for better cut quality
Deck easily converts from side discharge to optional Down Discharge™ mulching or PowerVac™ collection
Sentry™ spindles with massive, 8-inch flanges anchored in a 6-bolt pattern, spread the force of impact for greater strength
Spindle planes fabricated from double-layered, 7-gauge plus 10-gauge formed steel laminate that is 0.3138 inch thick 25.5 percent thicker than ½-inch steel
Sentry™ spindle guards shield spindle housing and seal lower bearings from fiber wrap and dirt ingestion
---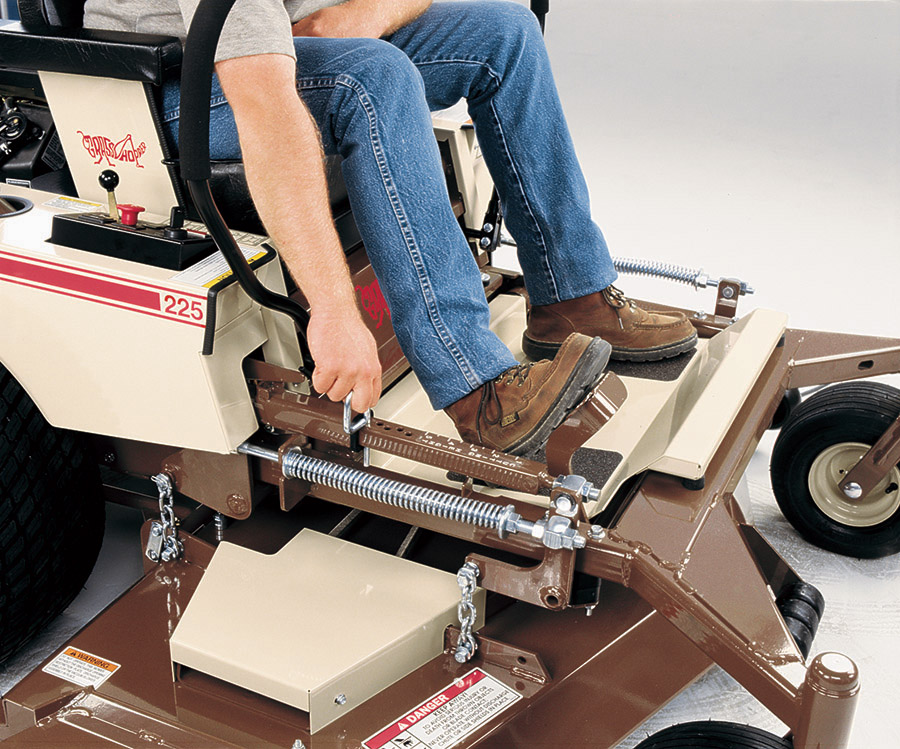 QuikAjust™ Drop Pin Height Adjustment
Raise and lower the deck easily with foot pedal and drop pin for precision cutting heights between 1.0 and 5.0 inches.
---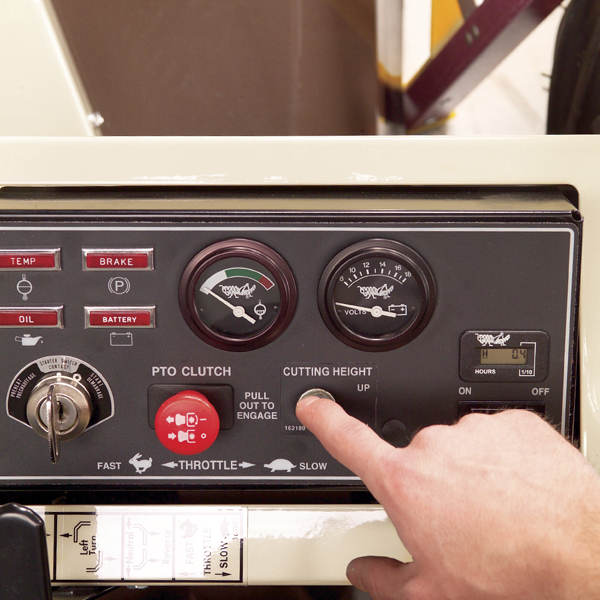 Hydraulic Height Adjustment
Hydraulic Height Adjustment for MidMount DuraMax™ decks 61-inches and larger allows operators to raise and lower cutting height at infinitely variable settings with toggle switch control.
---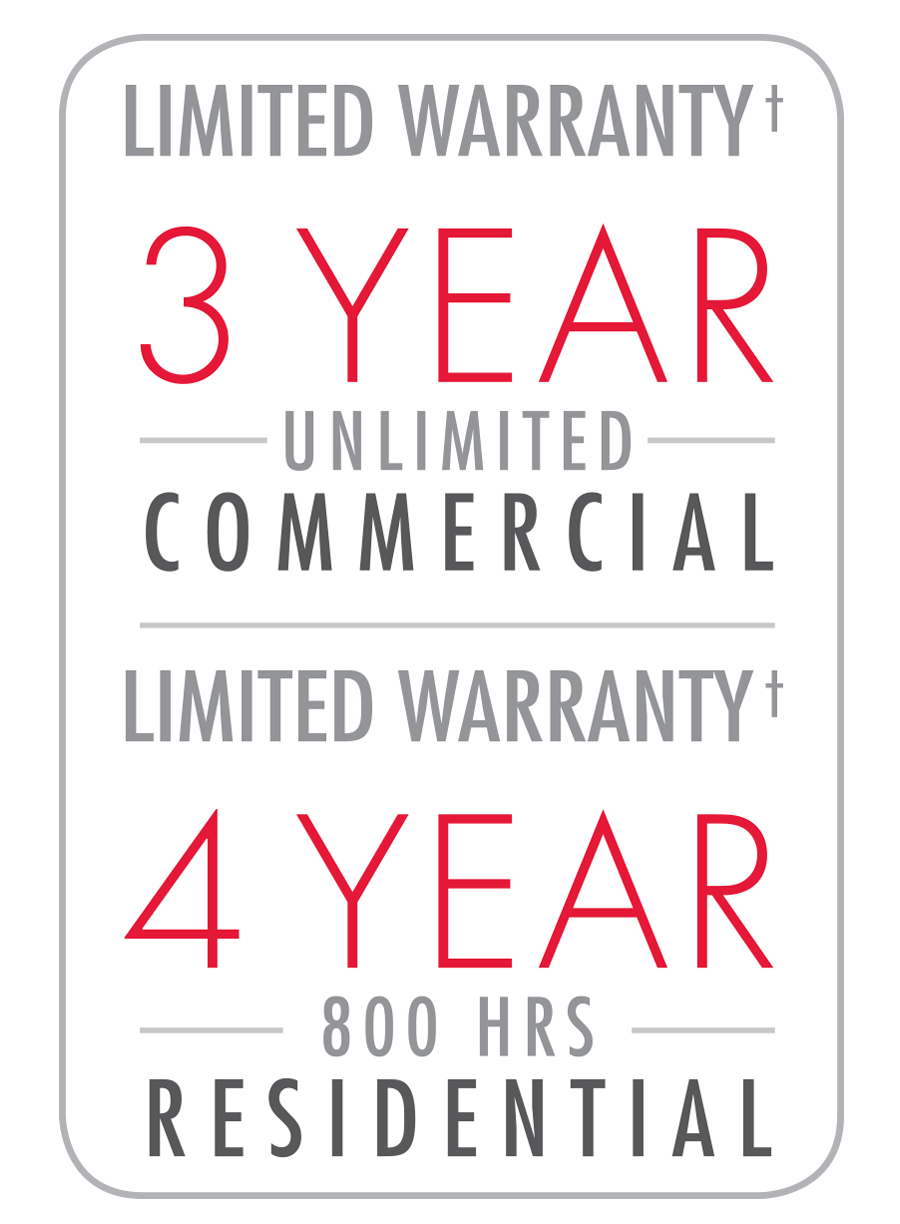 Warranty
Commercial Use: 3-year unlimited hours; limited warranty covering parts and labor.
Residential Use: 4-year or 800-hour (whichever comes first); limited warranty covering parts and labor.
---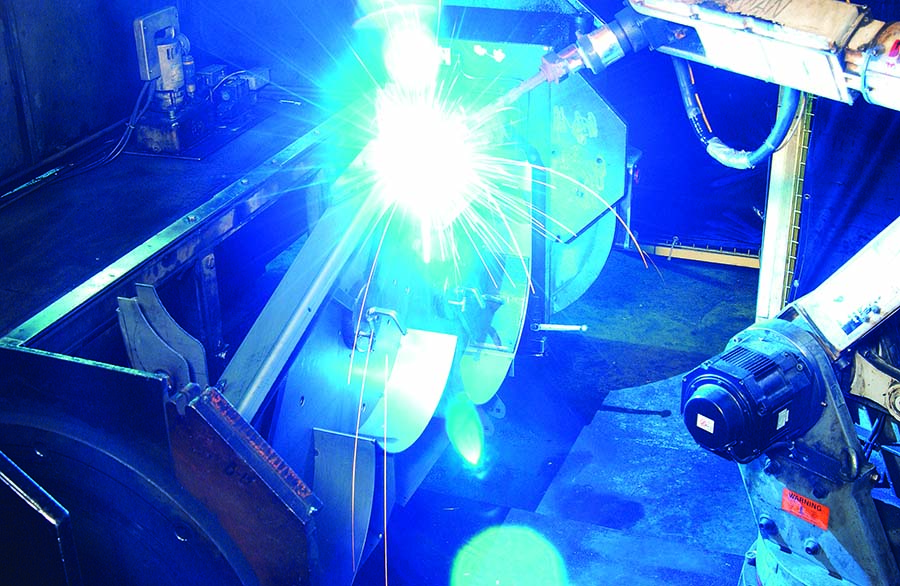 Rugged Construction
Robotically-welded steel construction for long-lasting durability
Centered-bearing design provides greater load-bearing capacity to handle the weight of operator, fuel and high-capacity collector with reserve strength for curb shocks and weight shifts
Tough-as-nails powder-coated finish is fusion-bonded for chip and rust resistance
---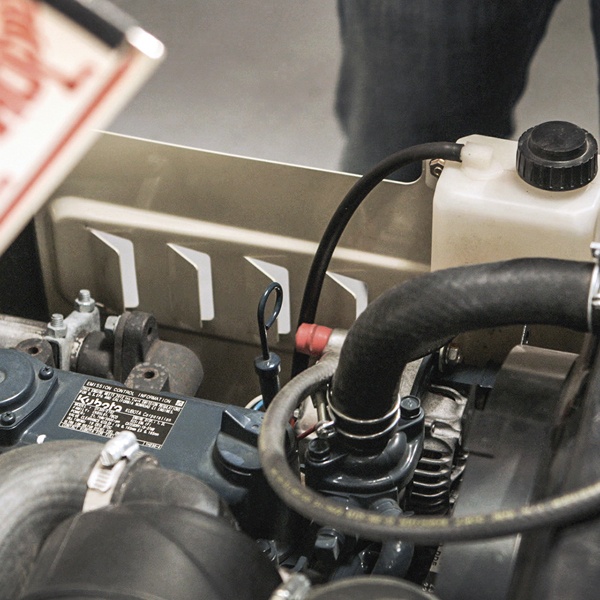 Reduced Maintenance
Only two Access-Eze™ lubrication points cut maintenance time up to 95%
Self-tensioning belts minimize cost and labor on routine maintenance
---
Minimal Maintenance
Fewer than 10 grease points and easy top-side access to belts and filters
1,000-hour transmission fluid change intervals
Self-tensioning belts minimize cost and labor on routine maintenance
---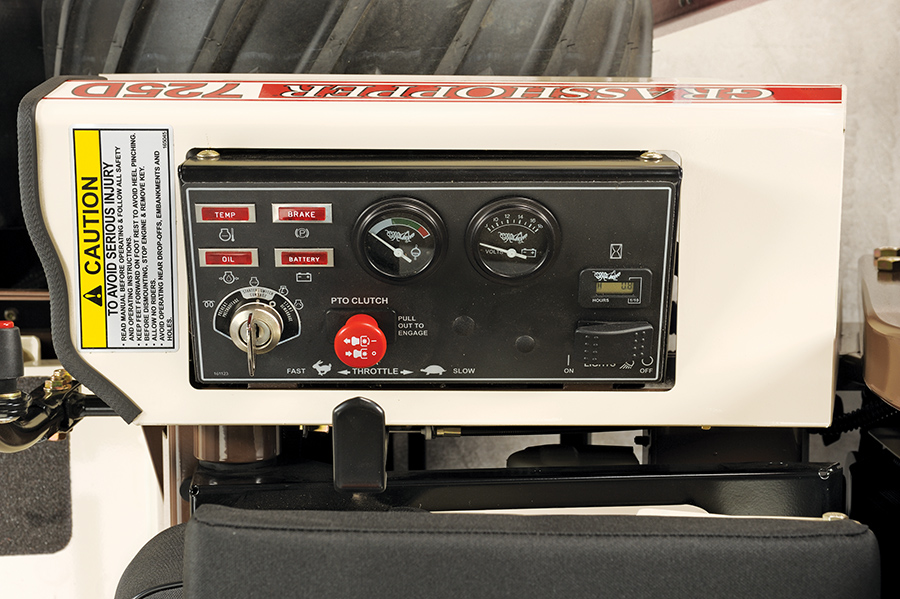 Ultimate Operator Station™: View-Eze™ Console
Operational controls including throttle, choke and angled View-Eze™ console and adjustable cup holder are well positioned for visibility and ease of reach.
---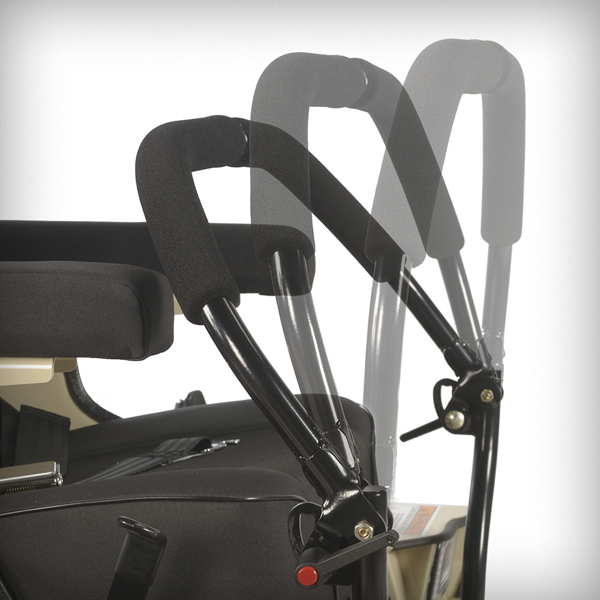 Ultimate Operator Station™: QuikAjust Tilt™ Levers
One- or two handed operation with QuikAjust Tilt™ dual levers with 9-inch comfort range to custom fit operator's reach. Levers automatically return to neutral from either forward or reverse position and are less strenuous than riding mowers with steering wheels.
---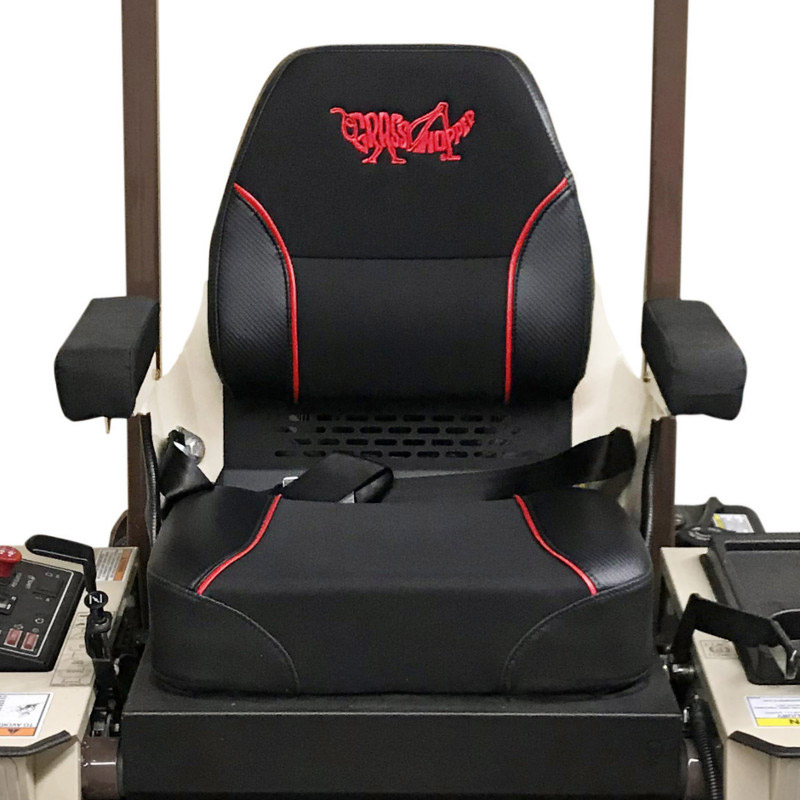 Ultimate Operator Station™: Premium Comfort Seat
The deep-cushioned, deluxe Premium Comfort Seat features a coil-spring suspension and padded lumbar support for all-day comfort. Iso-mounting eliminates vibration before it reaches the seat, and both padded seat and foldable armrests are covered in scuff-resistant, breathable CoolTemp Cordura® fabric, which dissipates heat and won't tear or crack with extended use.
---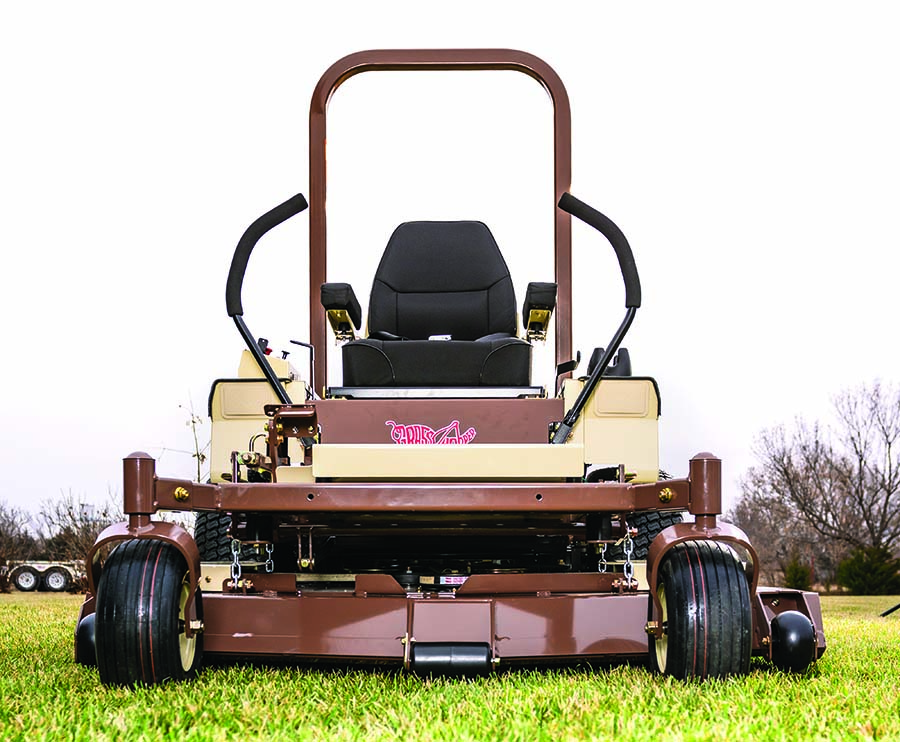 Ultimate Suspension Ride™
Roomy, iso-mounted, shock-absorbing footrest.
---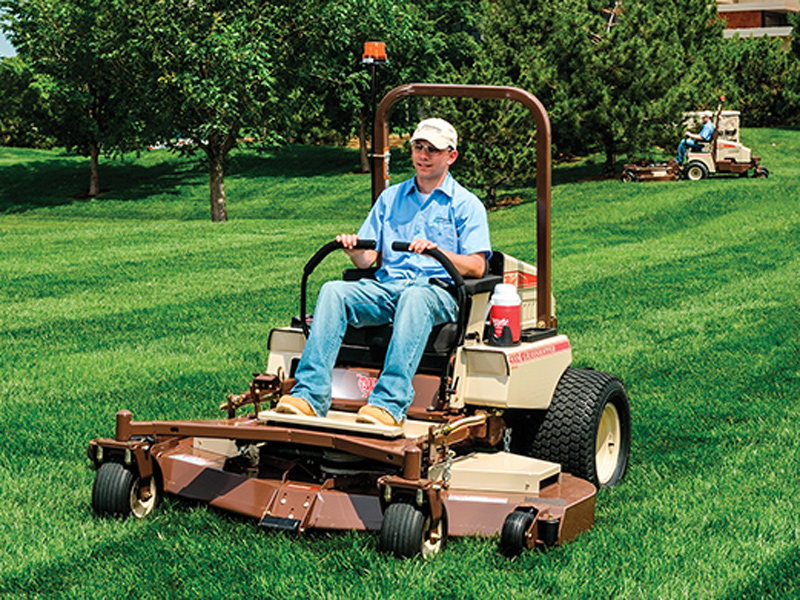 Vigilant Operator Presence System™
Standard, low profile Roll-over Protection System (ROPS) structure with an adjustable seatbelt
Dampened steering levers that return to neutral from forward and reverse
Interlock switches that shut down the engine when the operator leaves the seat while PTO is engaged or levers are in drive position
---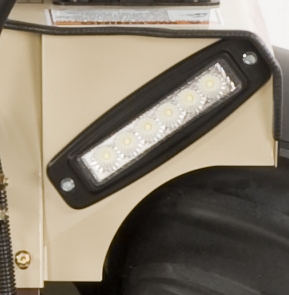 LED Work Lights
LED work lights provide improved visibility in low light situations.
---
High Temperature Clutch Cut Out
Equipped with a High Temperature Clutch Cut-Out that automatically disengages the PTO if engine temperature reaches a certain point to prevent engine damage
---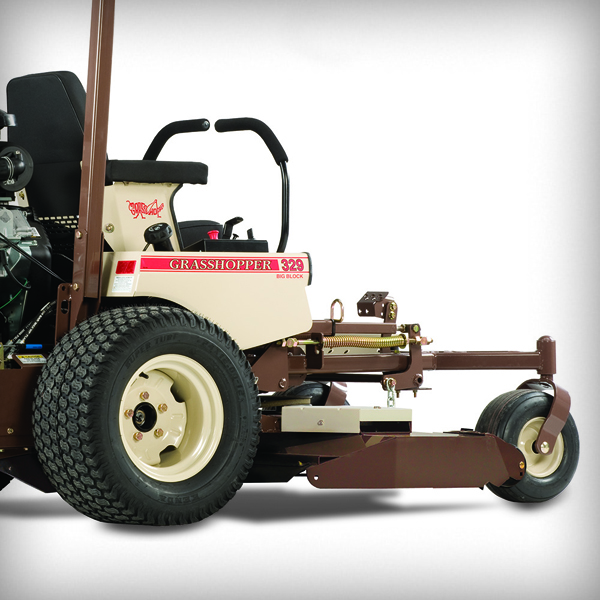 4X Rear Discharge Deck
Dedicated 48-inch and larger rear discharge decks throw clippings out back for a smooth cut and no windrowing.
---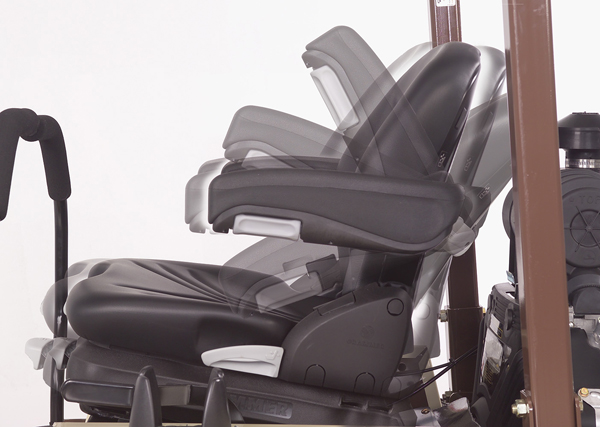 Premier Suspension Seat
The Premier Suspension Seat offers the ultimate in comfort and an extra measure of suspension while mowing over rough ground. Adjustable backrest, armrests and lumbar support with weight-adjusted suspension control provide maximum comfort for operators of all sizes and preferences.
---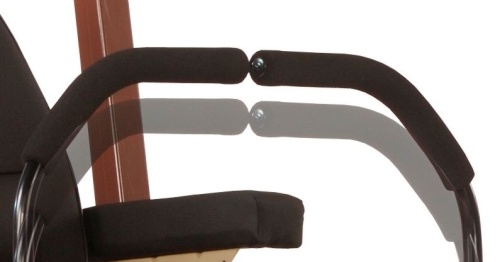 Extended Steering Levers
Provides an additional two inches of leg clearance.
---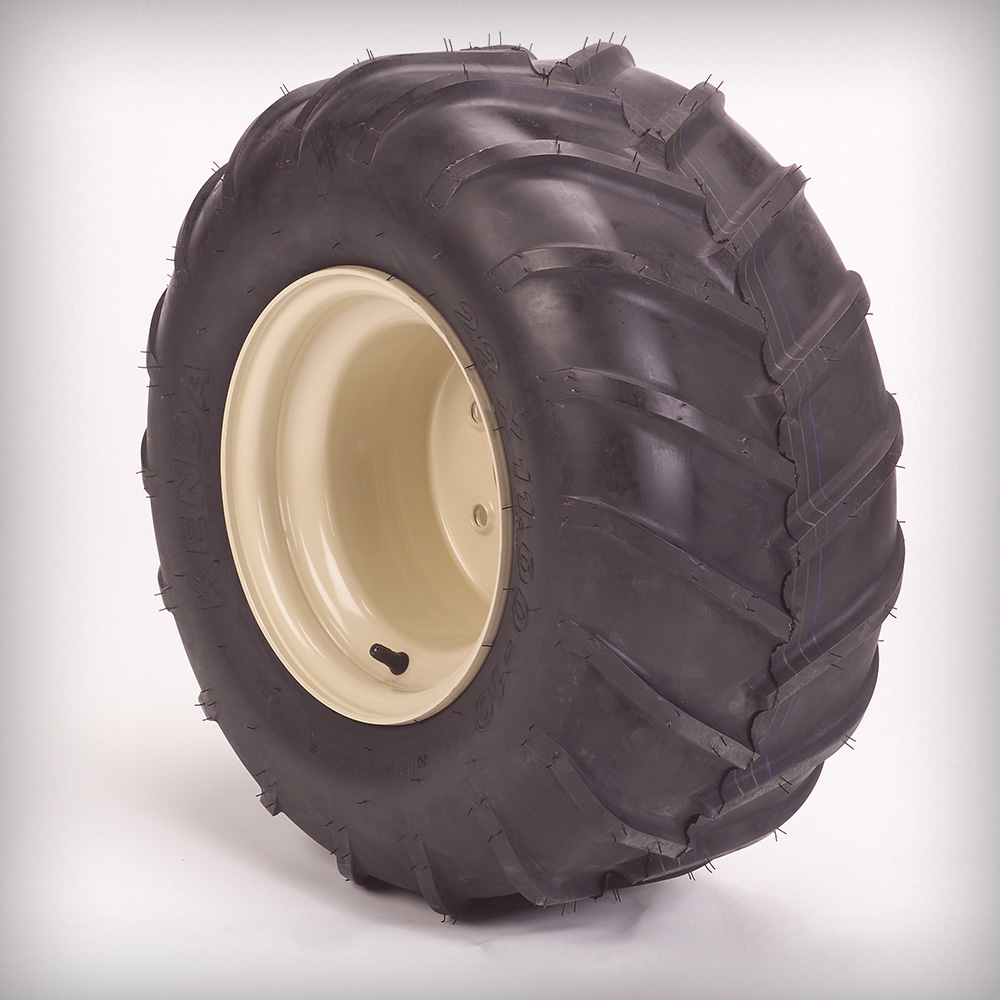 Low-Pressure Bar-Tread Tires
Low-pressure, high-flotation bar-tread tires flex with the terrain for maximum traction and minimize scuffing caused by wheel spin-out.
---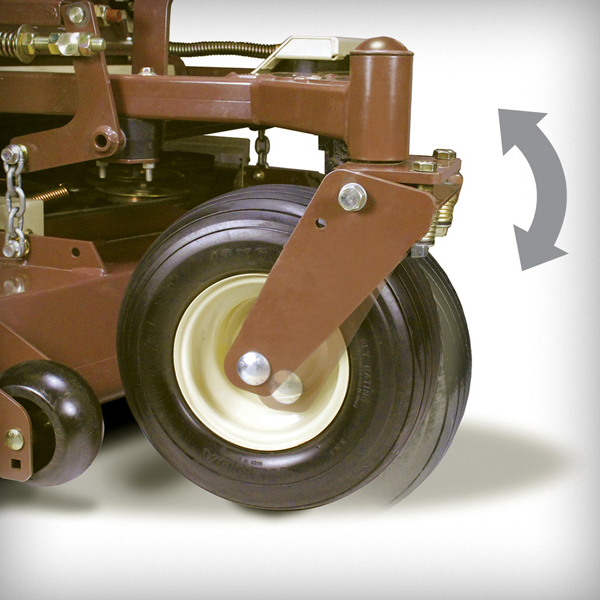 DuraFlex™ Suspension Forks
Optional DuraFlex™ Suspension Forks absorb the impacts of rough terrain to maintain a level cut, and can be set for use with PowerVac™ collectors.
---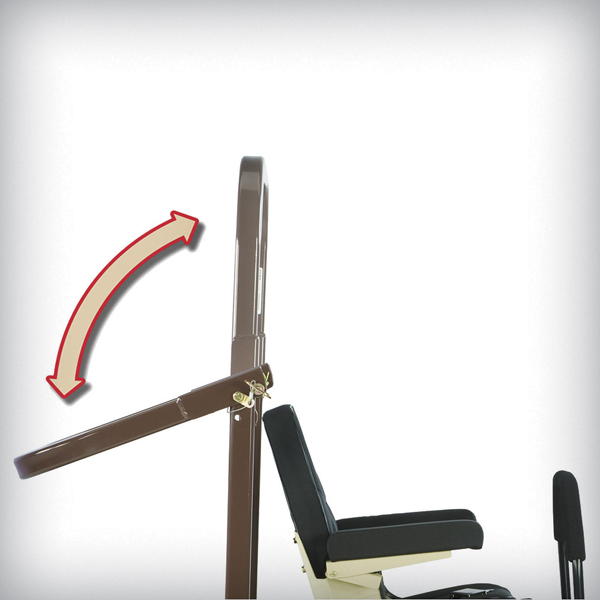 Foldable ROPS
The Foldable ROPS allows the two-post ROPS to be lowered for mowing under low-hanging trees and other overhead obstacles, or for storing and transporting in enclosed trailers with low door clearance. CAUTION: Avoid drop-offs, embankments and steep slopes. Do not allow ROPS to provide a false pretense of security in hazardous areas and avoid questionable conditions. Always wear seatbelt when Foldable ROPS is in up-right position. When Foldable ROPS is down, DO NOT use seat belt, and drive with extra caution.
---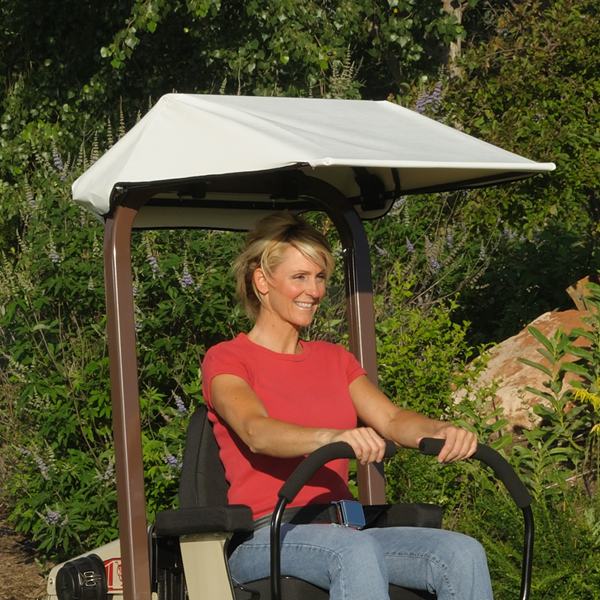 Sunshade Canopy Vinyl for ROPS
Lightweight, water repellent, UV-resistant vinyl canopy mounts easily to ROPS to limit exposure to direct sunlight, reducing eye strain and increasing operator comfort.
---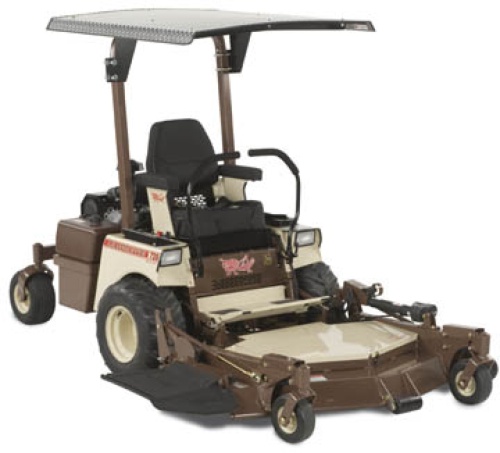 Sunshade Canopy Aluminum for ROPS
Diamond-plated aluminum canopy is highly resistant to abrasions. Easily mounts to ROPS to increase operator comfort by limiting exposure to direct sunlight and reducing eye strain.
---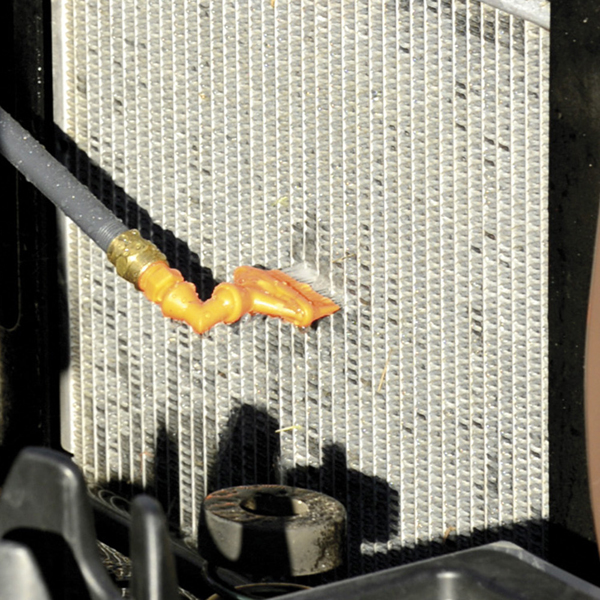 Radiator Cleaning Wand
A multi-channel sprayer that combs water pressure between radiator fins without damage, dislodging packed-in dust and debris that can become an invisible source of engine overheating. Remove and clean radiator screen regularly. A dirty screen will cause the engine to overheat. For use on liquid-cooled models only.
---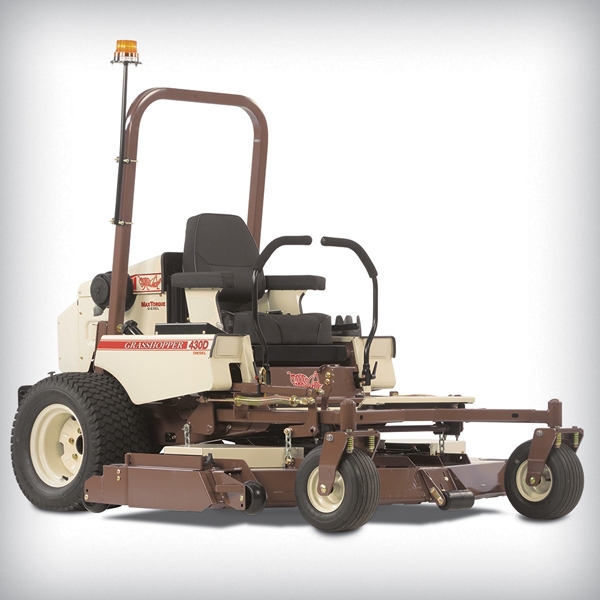 Down Discharge™ Mulching Package
The Down Discharge™ mulching package with GrassMax™ medium-lift blades cuts and recuts clippings and directs them deep into the grass bed, enriching turf and producing a beautifully manicured cut.
---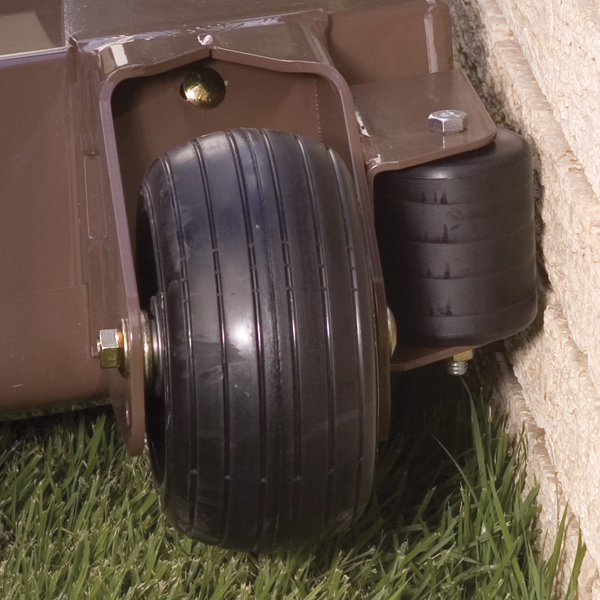 Speed-Trimming™ Roller Kit
The Speed-Trimming™ heavy-duty, anti-scalp roller kit for 52-inch and larger DuraMax® decks speeds close trimming near buildings, fences retaining walls and other landscaping features. Kits available for both left and right sides of cutting decks.
---
Michelin® X® Tweel® Airless Turf Tire 24x12.00x12
24x12.00x12 turf-tread drive tire, performs like a pneumatic tire but without the inconvenience and downtime associated with flat tires. Provides consistent hub height to ensure the mower deck produces an even cut and excellent lateral stability and outstanding operator comfort.
---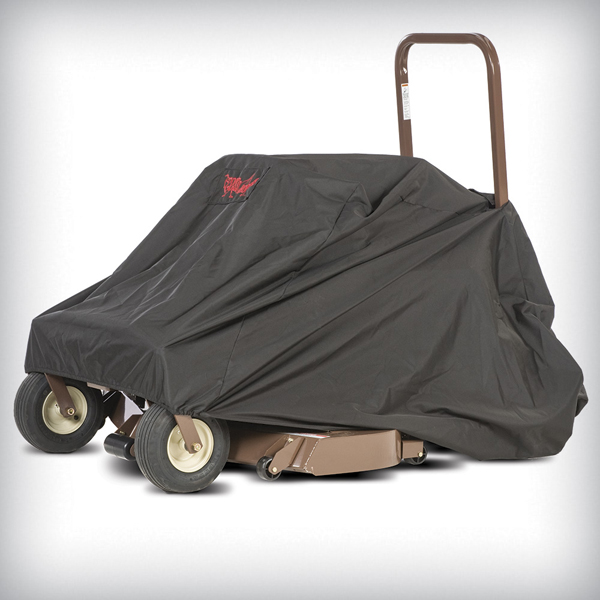 Custom Cordura® Weather Cover
Weather-resistant, black Cordura fabric cover with embroidered Grasshopper logo keeps seat and engine area protected during storage or between mowings. Slips over ROPS, with Velcro closure to secure the opening.
---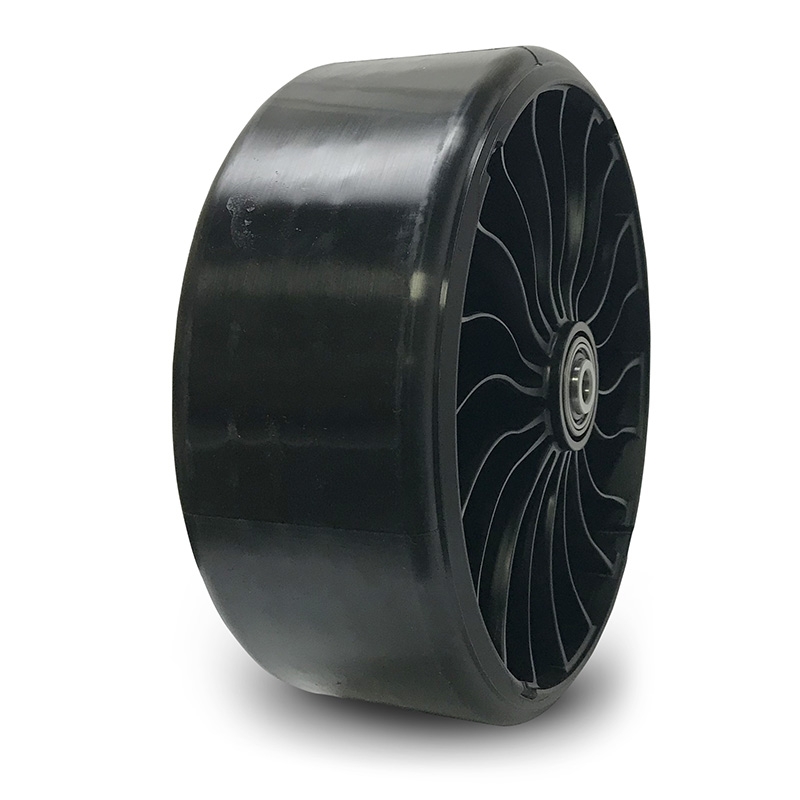 Michelin® X® Tweel® Airless Front Caster Tire 13x6.50x6
Smooth tread, 13x6.50x6 caster wheel. Performs like a pneumatic tire, but without the inconvenience and downtime associated with flats.
---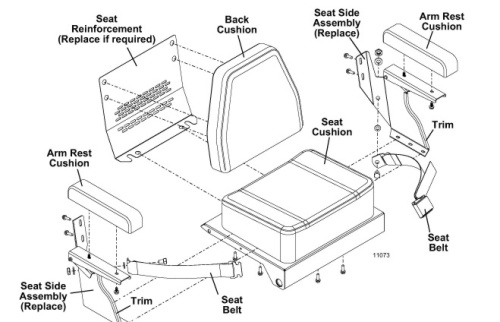 Wide Seat Conversion Kit
Provides additional seating room for larger operators or to accommodate cell phones or pagers. Requires seat belt extension.
---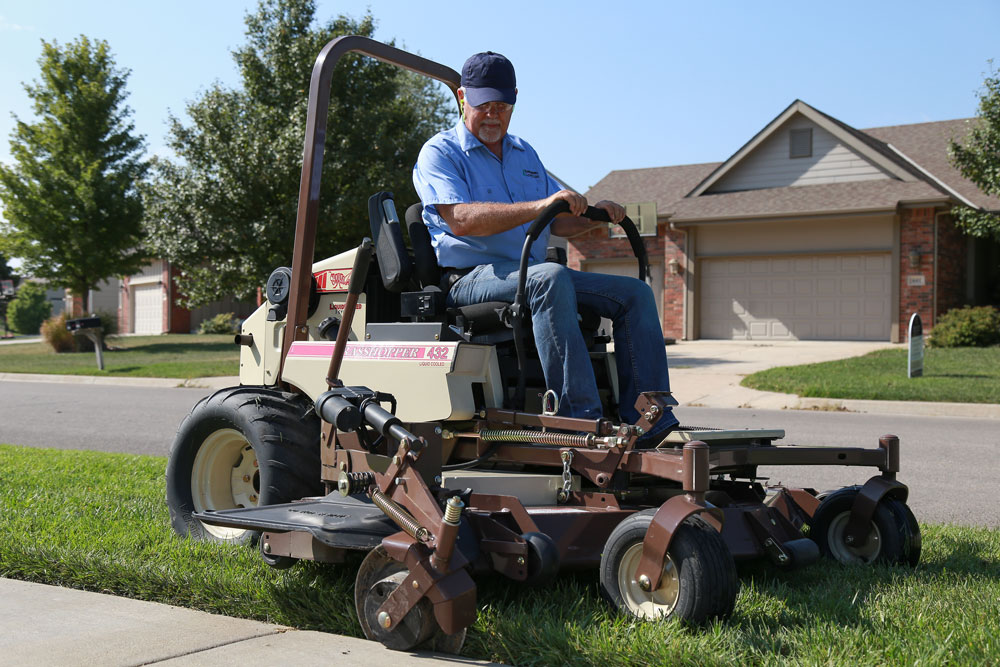 Edge-EZ™ Edger
Creates clean, sharp turf edges along sidewalks, roadways and driveways, eliminating time-consuming secondary trimming and reducing edging time up to 75 percent compared to hand-held string trimmers and walk-behind wheeled edgers.
---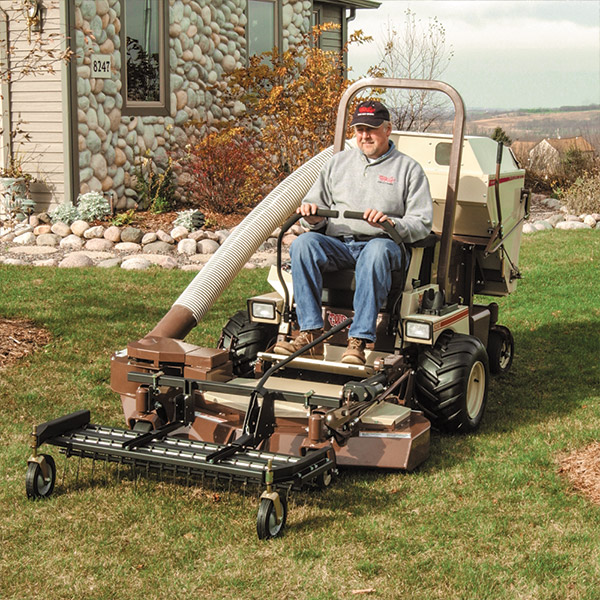 Tine-Rake™ Dethatcher
The 46- and 60-inch Tine-Rake™ Dethatchers use spring steel tines to create a unified raking motion that removes large amounts of thatch and surface aerates soil. Used with a PowerVac™ Collection System, you can dethatch and collect debris in one pass for time-saving rejuvenation.
---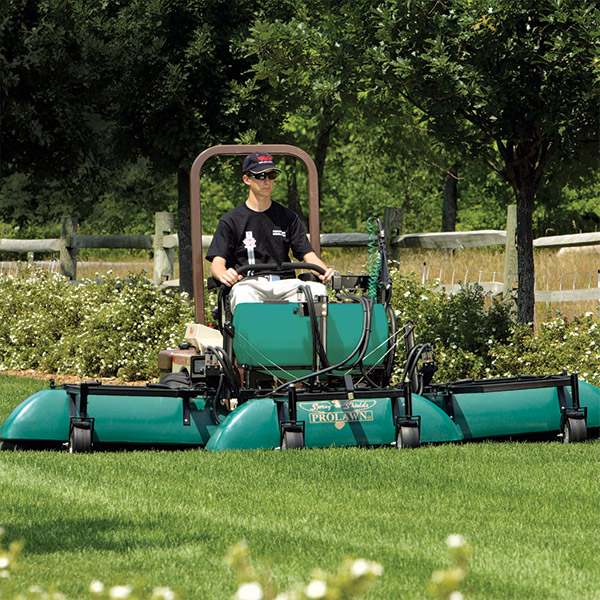 Shielded Sprayer
Double or even triple your spray crew's efficiency and enjoy faster application and greater coverage with a shielded sprayer for your Grasshopper zero-turn mower. Featuring aerodynamically designed shields and fully shielded curtains to deliver a fine-mist chemical spray, the shielded sprayer delivers on-target application every time. Four-nozzle spraying chambers provide uniform coverage, applying small droplets that "stick" to vegetation for more coverage per tank - up to 5.5 acres or 240,000 square feet - using less chemicals.
---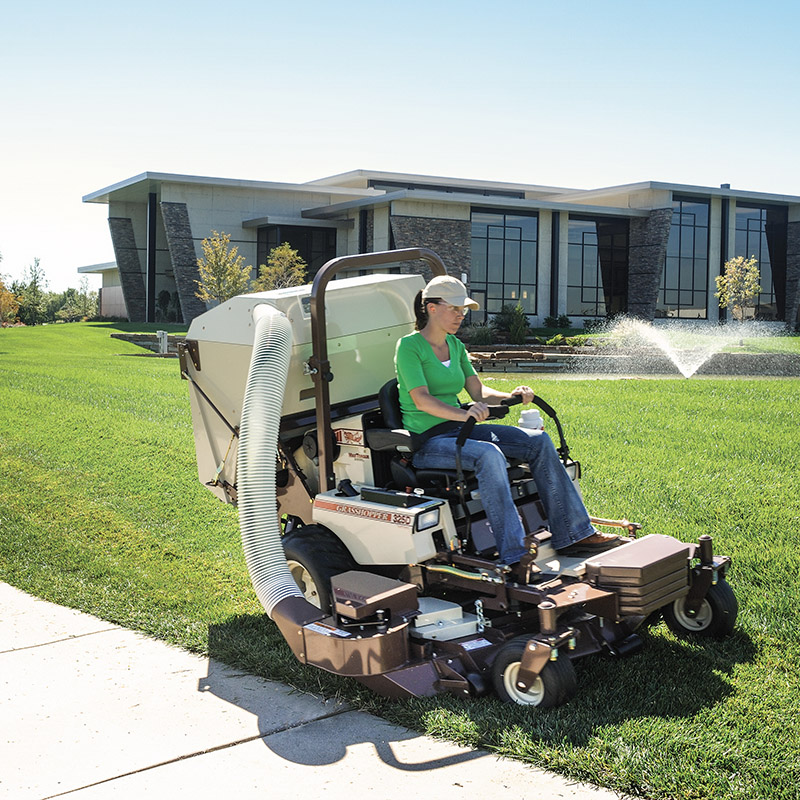 MidMount™ PowerVac™ Collection Systems
With a PowerVac™ Collection System for your Grasshopper zero-turn mower, you're getting the most powerful, maneuverable and efficient leaf-collecting, grass-catching and debris-removing equipment available for turf. You'll get a professional, finished look every time you mow.
---