200V Series
Model

226V-G4


Air

-

Cooled

Gas

Enjoy the comfort, performance and durability of the 200V-G4 Series Compact Mower. An ergonomic design and an integrated, multiple suspension system combined with the most comfortable seat in the industry ensure all-day comfort. You'll be able to comfortably maintain control of every cutting maneuver, even at higher speeds.

Deck Sizes: 155 cm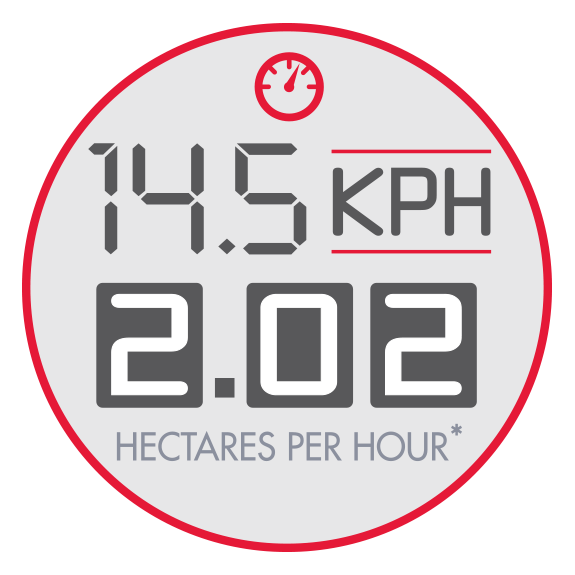 Mowing speeds up to 14.5 KPH and 2.02 hectares/hr. based on 155 cm cutting width.*
*Actual results may vary. Click Here for Details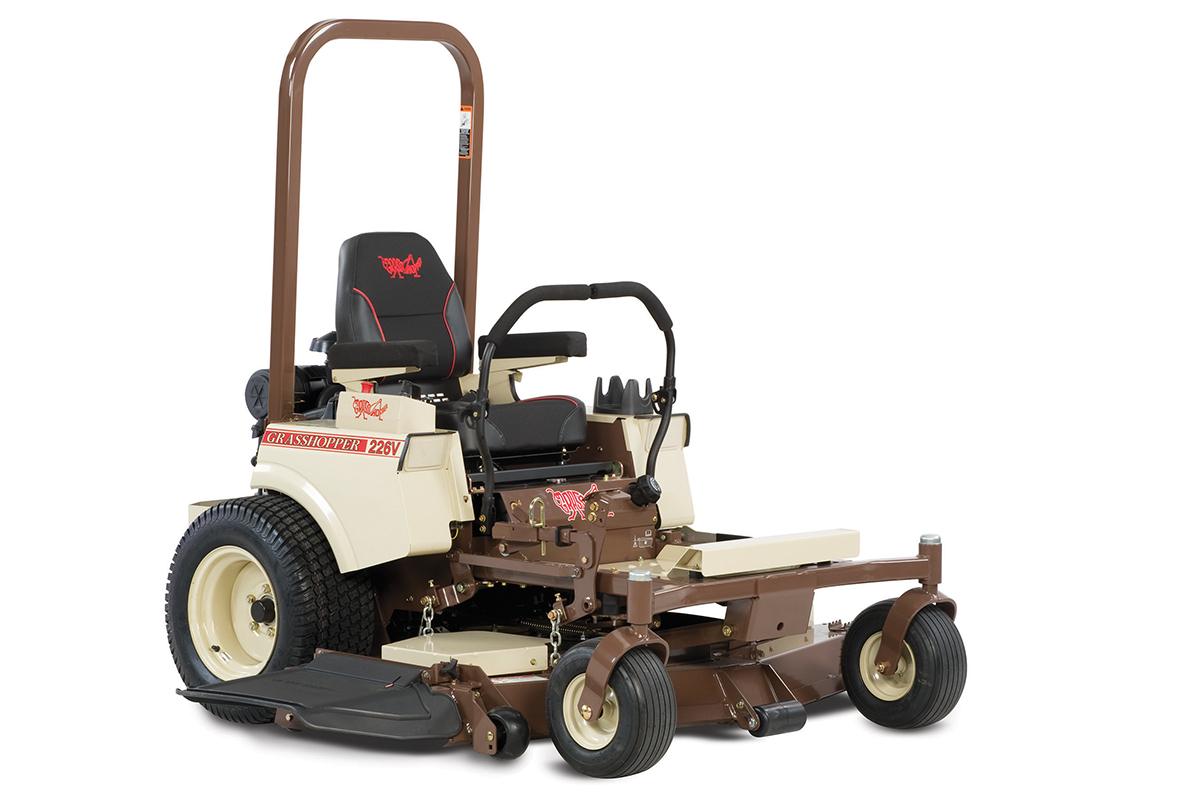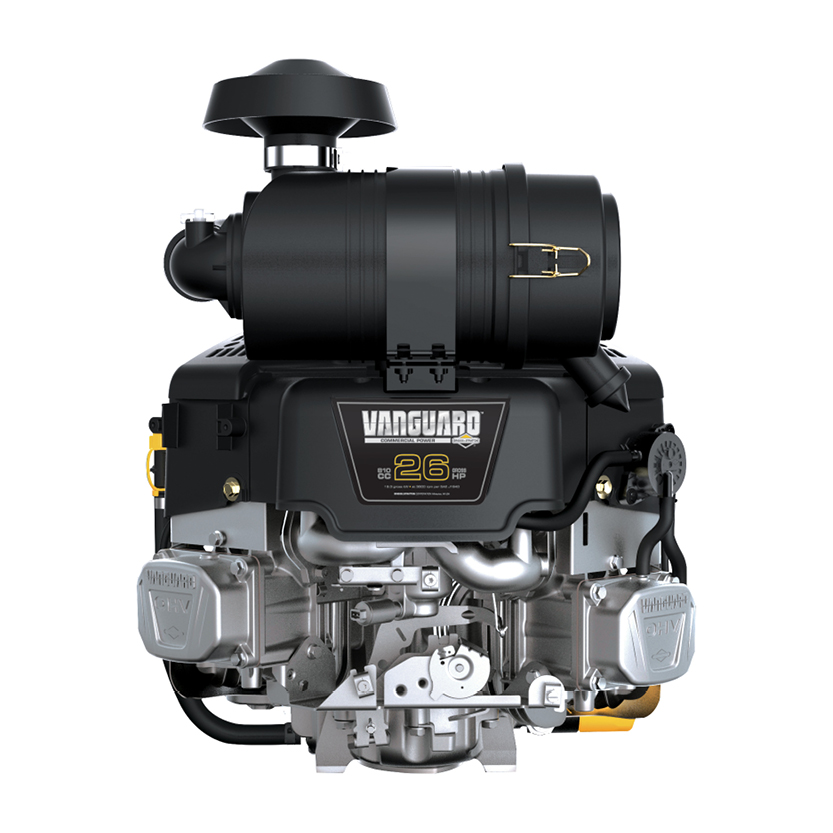 B&S Vanguard Engine
810 cc (49.4 cu. in.) Vanguard, V-Twin, OHV engine
Heavy-duty components enhance power and reliability
Remote-mounted, centrifugal multi-stage air cleaner with advanced debris managements
Extended maintenance intervals
Three-year limited commercial engine manufacturer warranty (see dealer for details)
---
Hydro-Gear ZT-4400 Transmission
The G4 Hydro-Gear ZT-4400 transmissions are designed to provide powerful, smooth response The heavy-duty, self-contained commercial transaxles are integrated with a cooling fan and feature 1-3/8-inch axles for longer service life. You'll also enjoy best-in-class transmission fluid change intervals after a 100-hour break-in period, reducing costs and maintenance time.
---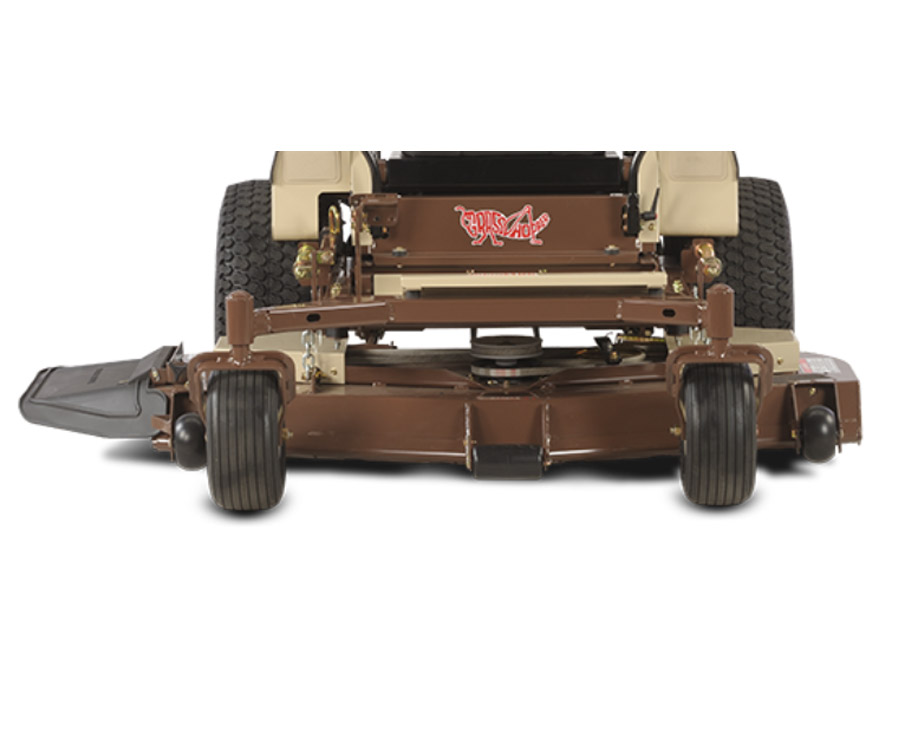 Heavy-duty Deck
Extra-deep, 5.5-inch deck is fabricated from heavy-gauge formed steel with a reinforced anvil edge
Specially designed cutting chambers enhance airflow for better cut quality
Deck easily converts from side discharge to optional Down Discharge™ mulching or PowerVac™ collection
Sentry™ spindles with massive, 8-inch flanges anchored in a 6-bolt pattern, spread the force of impact for greater strength
Spindle planes fabricated from double-layered, 10-gauge plus 10-gauge formed steel laminate that is 0.269 inch thick 7.6 percent thicker than ¼-inch steel
Sentry™ spindle guards shield spindle housing and seal lower bearings from fiber wrap and dirt ingestion
---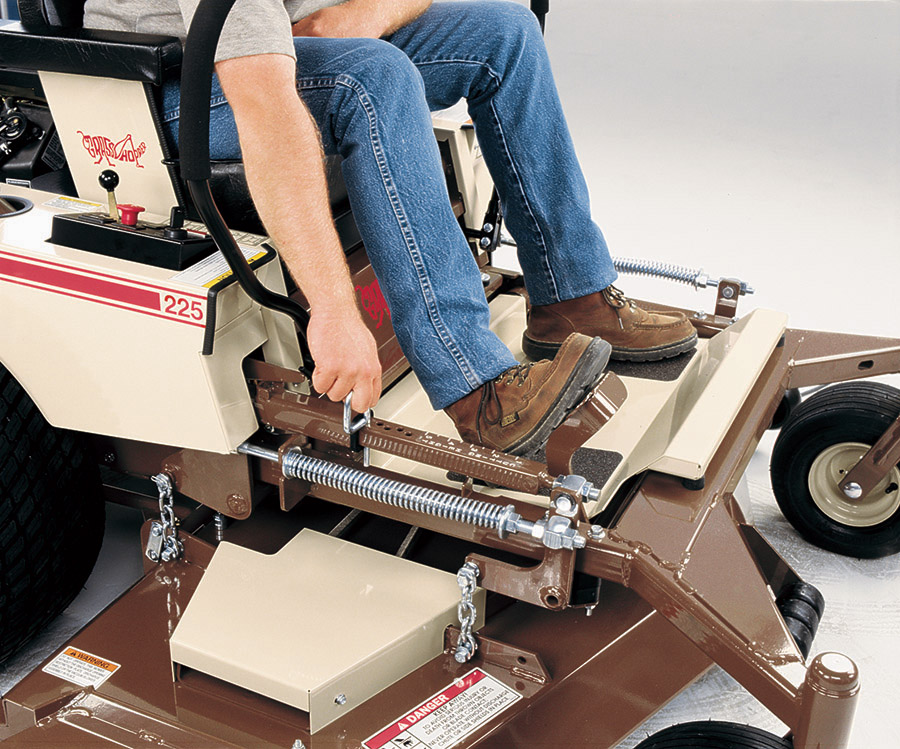 QuikAjust™ Drop Pin Height Adjustment
Raise and lower the deck easily with foot pedal and drop pin for precision cutting heights between 1.0 and 5.0 inches.
---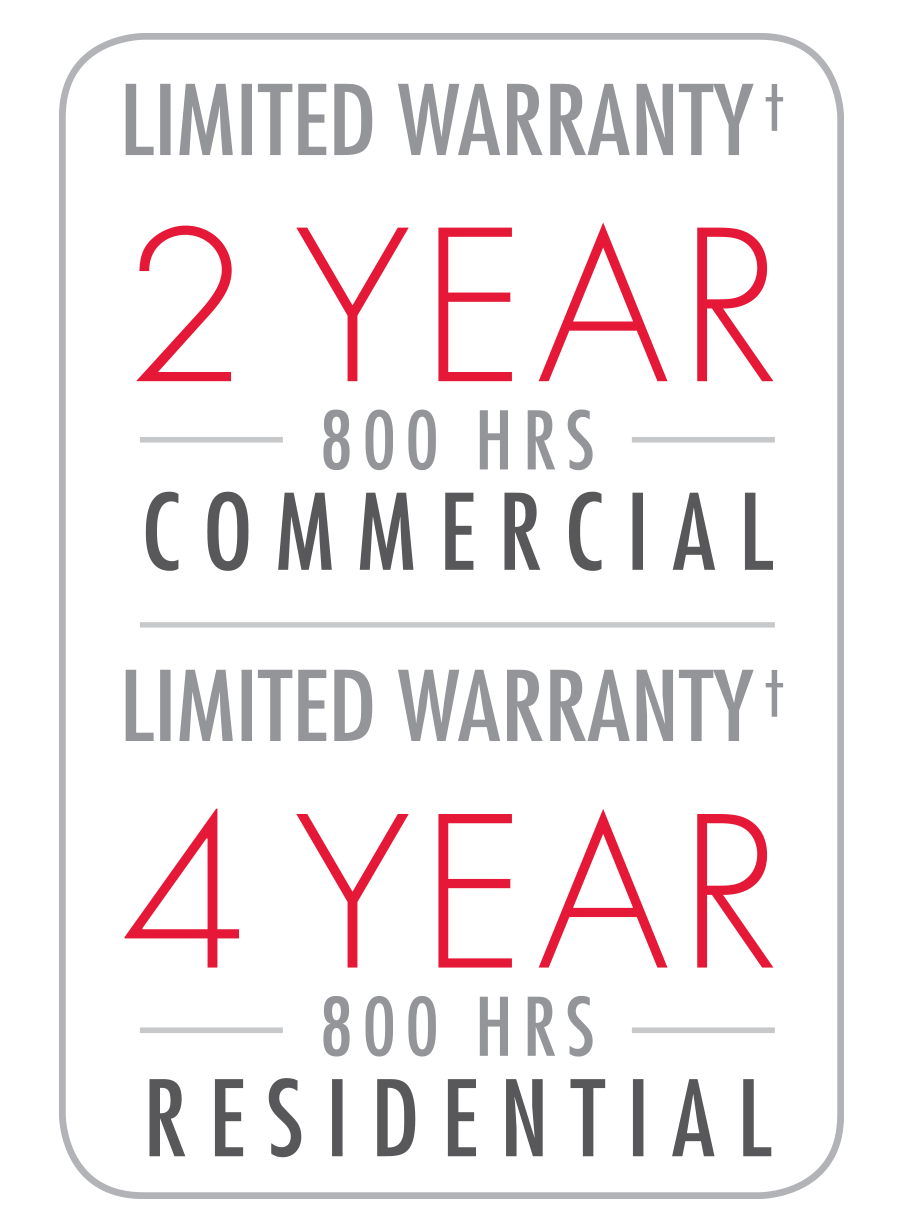 Warranty
Commercial Use: 2-year or 800-hour (whichever comes first); limited warranty covering parts and labor.
Residential Use: 4-year or 800-hour (whichever comes first); limited warranty covering parts and labor.
---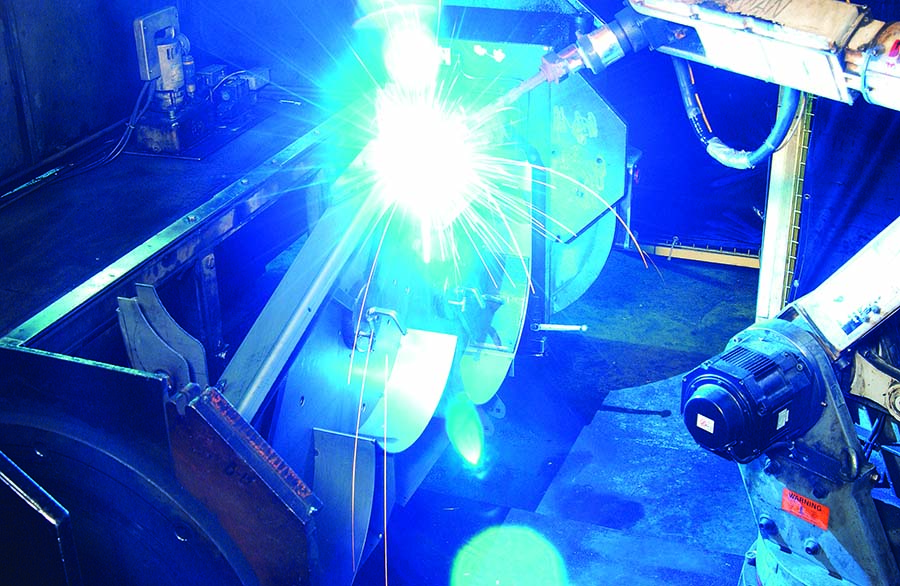 Rugged Construction
Robotically-welded steel construction for long-lasting durability
Centered-bearing design provides greater load-bearing capacity to handle the weight of operator, fuel and high-capacity collector with reserve strength for curb shocks and weight shifts
Tough-as-nails powder-coated finish is fusion-bonded for chip and rust resistance
---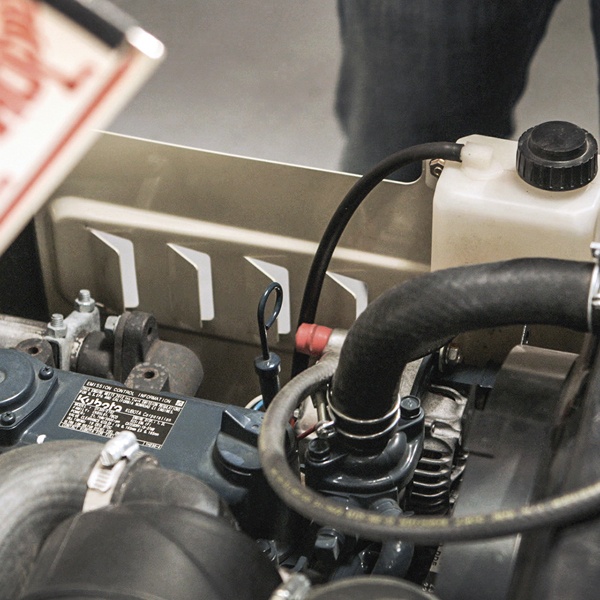 Reduced Maintenance
Only two Access-Eze™ lubrication points cut maintenance time up to 95%
Self-tensioning belts minimize cost and labor on routine maintenance
---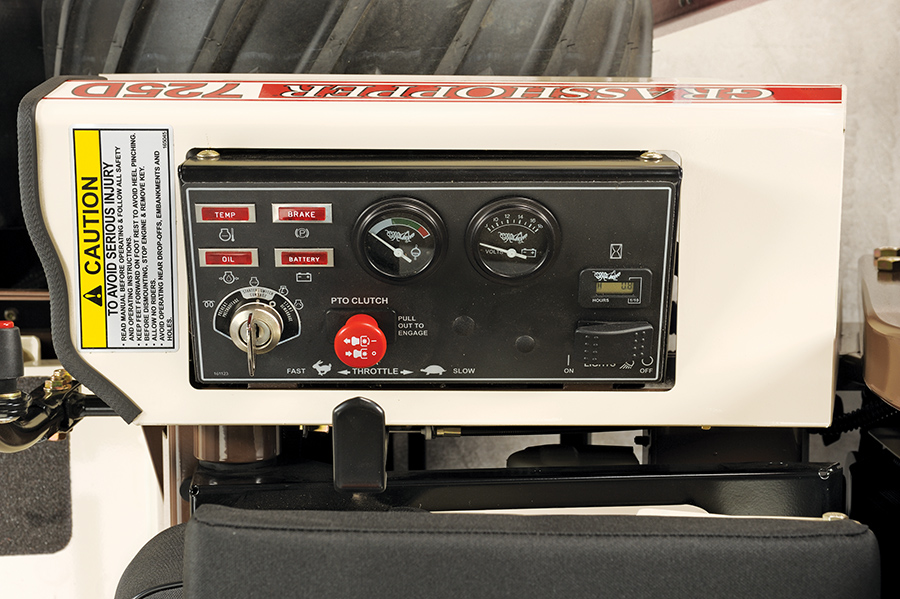 Ultimate Operator Station™: View-Eze™ Console
Operational controls including throttle, choke and angled View-Eze™ console and adjustable cup holder are well positioned for visibility and ease of reach.
---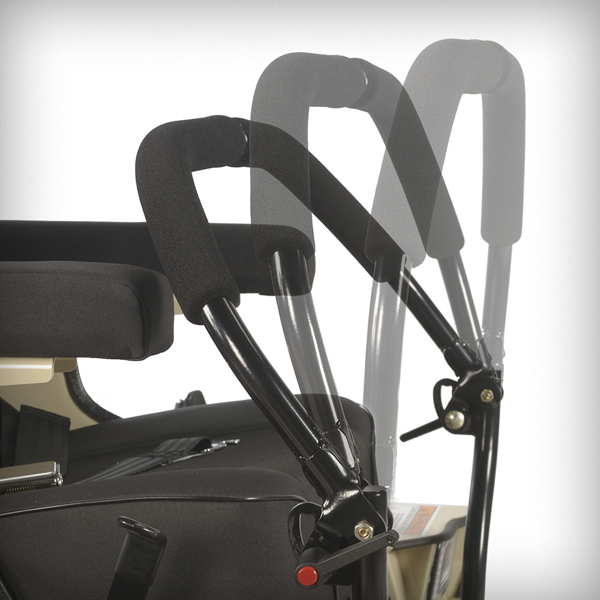 Ultimate Operator Station™: QuikAjust Tilt™ Levers
One- or two handed operation with QuikAjust Tilt™ dual levers with 9-inch comfort range to custom fit operator's reach. Levers automatically return to neutral from either forward or reverse position and are less strenuous than riding mowers with steering wheels.
---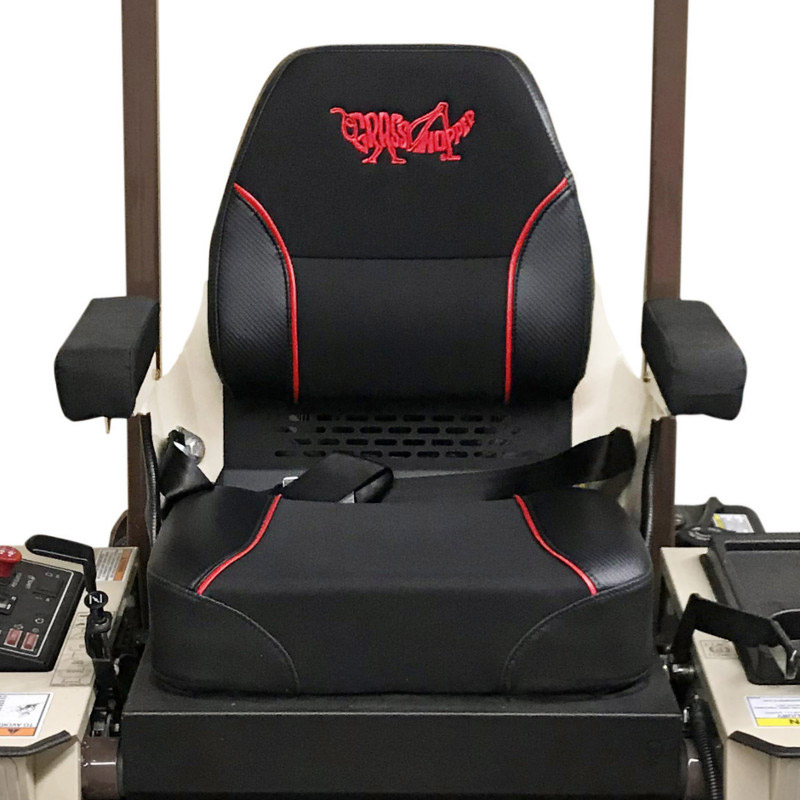 Ultimate Operator Station™: Premium Comfort Seat with slide
The deep-cushioned, deluxe Premium Comfort Seat features a coil-spring suspension and padded lumbar support with sliding 2-inch fore and aft adjustment for all-day comfort. Iso-mounting eliminates vibration before it reaches the seat, and both padded seat and foldable armrests are covered in scuff-resistant, breathable CoolTemp Cordura® fabric, which dissipates heat and won't tear or crack with extended use.
---
Shock Impact Reduction System™(SIRS™)
Unrivaled comfort with iso-mounted Ultimate Suspension Ride™ scuff-resistant, Cordura®-covered, deep-cushioned, high-back seat with padded lumbar support and armrests
Roomy, iso-mounted, shock-absorbing footrest
---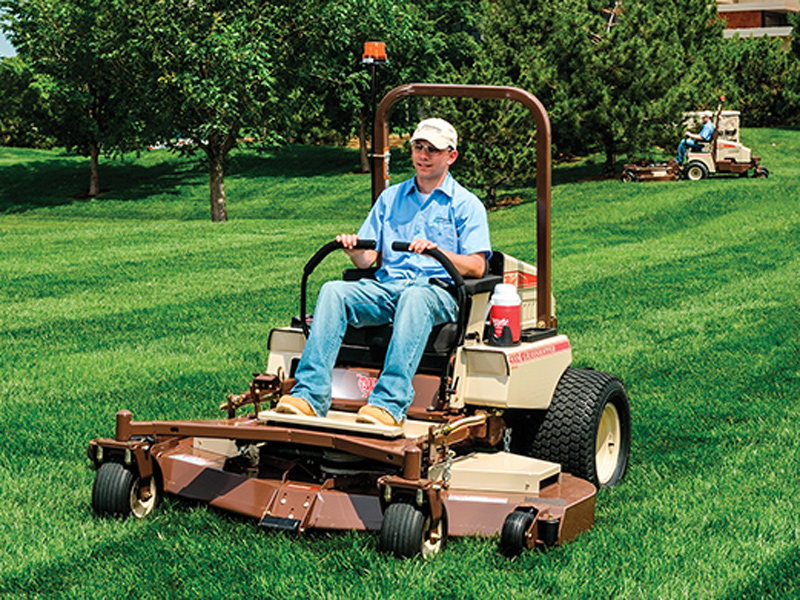 Vigilant Operator Presence System™
Standard, low profile Roll-over Protection System (ROPS) structure with an adjustable seatbelt
Dampened steering levers that return to neutral from forward and reverse
Interlock switches that shut down the engine when the operator leaves the seat while PTO is engaged or levers are in drive position
---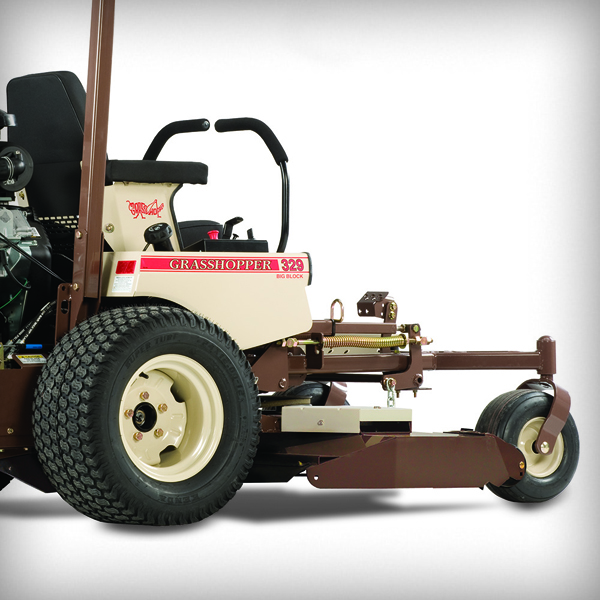 4X Rear Discharge Deck
Dedicated 48-inch and larger rear discharge decks throw clippings out back for a smooth cut and no windrowing.
---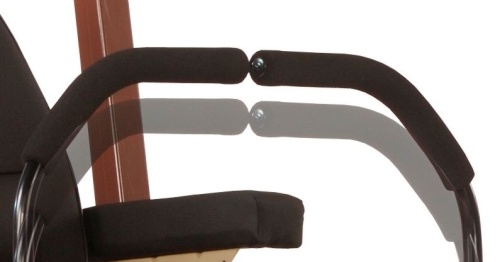 Extended Steering Levers
Provides an additional two inches of leg clearance.
---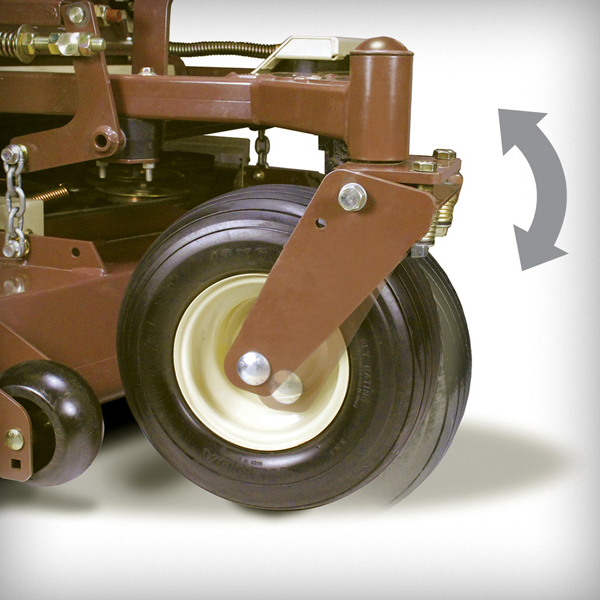 DuraFlex™ Suspension Forks
Optional DuraFlex™ Suspension Forks absorb the impacts of rough terrain to maintain a level cut, and can be set for use with PowerVac™ collectors.
---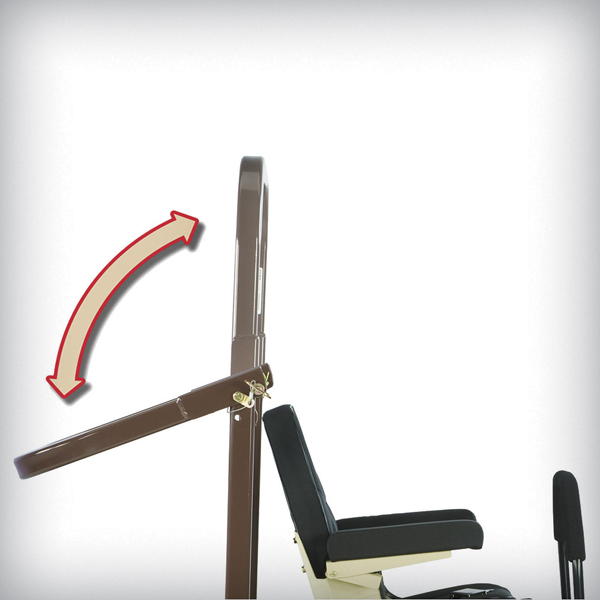 Foldable ROPS
The Foldable ROPS allows the two-post ROPS to be lowered for mowing under low-hanging trees and other overhead obstacles, or for storing and transporting in enclosed trailers with low door clearance. CAUTION: Avoid drop-offs, embankments and steep slopes. Do not allow ROPS to provide a false pretense of security in hazardous areas and avoid questionable conditions. Always wear seatbelt when Foldable ROPS is in up-right position. When Foldable ROPS is down, DO NOT use seat belt, and drive with extra caution.
---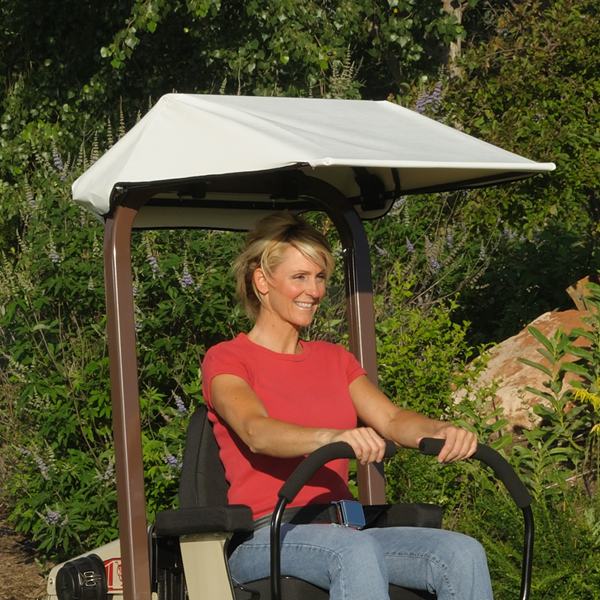 Sunshade Canopy Vinyl for ROPS
Lightweight, water repellent, UV-resistant vinyl canopy mounts easily to ROPS to limit exposure to direct sunlight, reducing eye strain and increasing operator comfort.
---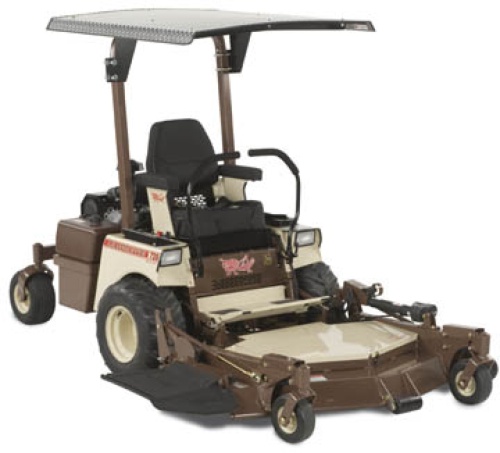 Sunshade Canopy Aluminum for ROPS
Diamond-plated aluminum canopy is highly resistant to abrasions. Easily mounts to ROPS to increase operator comfort by limiting exposure to direct sunlight and reducing eye strain.
---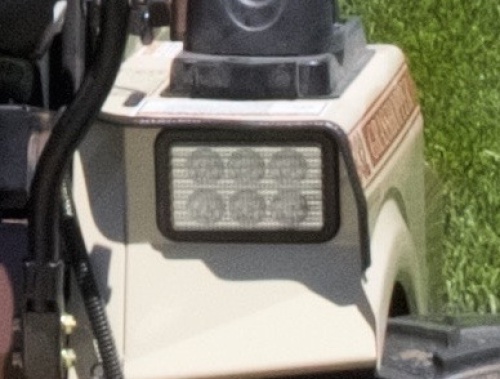 LED Work Lights
LED work lights provide improved visibility in low light situations.
---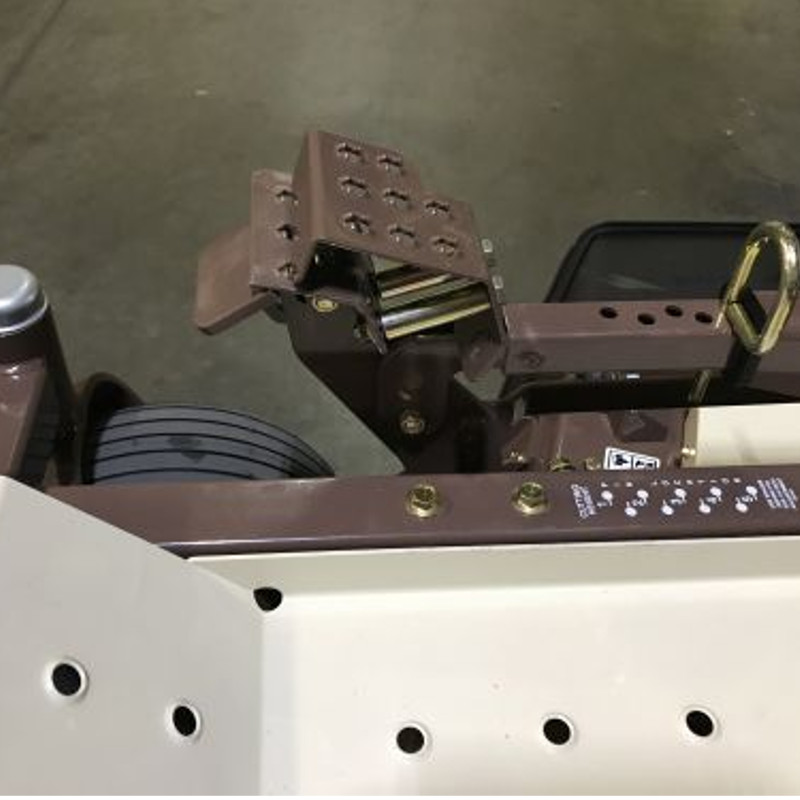 Foot Pedal Extension Kit
Extends foot pedals to allow easy height control for shorter operators.
---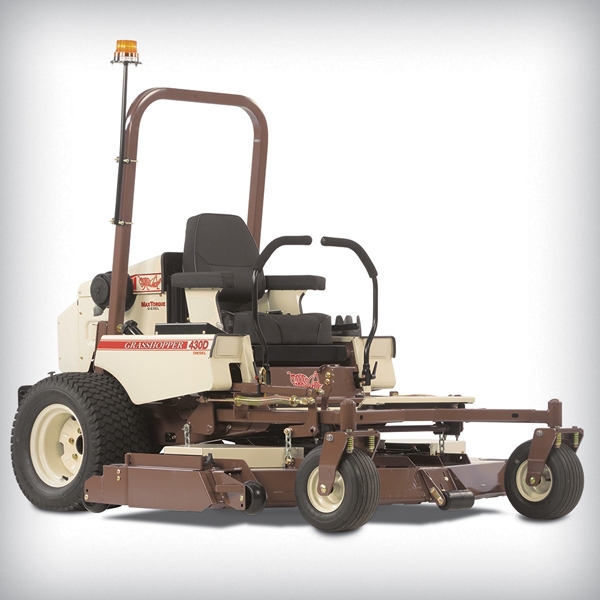 Down Discharge™ Mulching Package
The Down Discharge™ mulching package with GrassMax™ medium-lift blades cuts and recuts clippings and directs them deep into the grass bed, enriching turf and producing a beautifully manicured cut.
---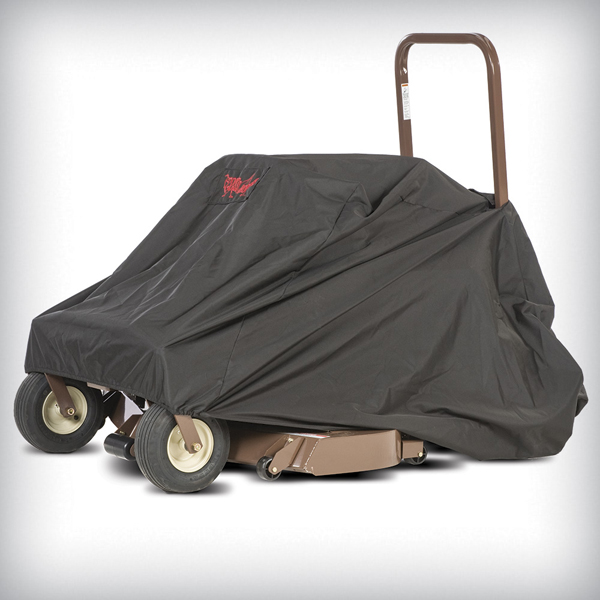 Custom Cordura® Weather Cover
Weather-resistant, black Cordura fabric cover with embroidered Grasshopper logo keeps seat and engine area protected during storage or between mowings. Slips over ROPS, with Velcro closure to secure the opening.
---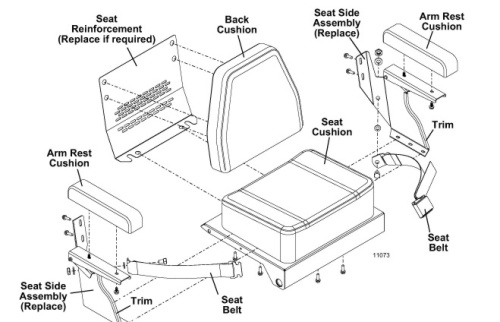 Wide Seat Conversion Kit
Provides additional seating room for larger operators or to accommodate cell phones or pagers. Requires seat belt extension.
---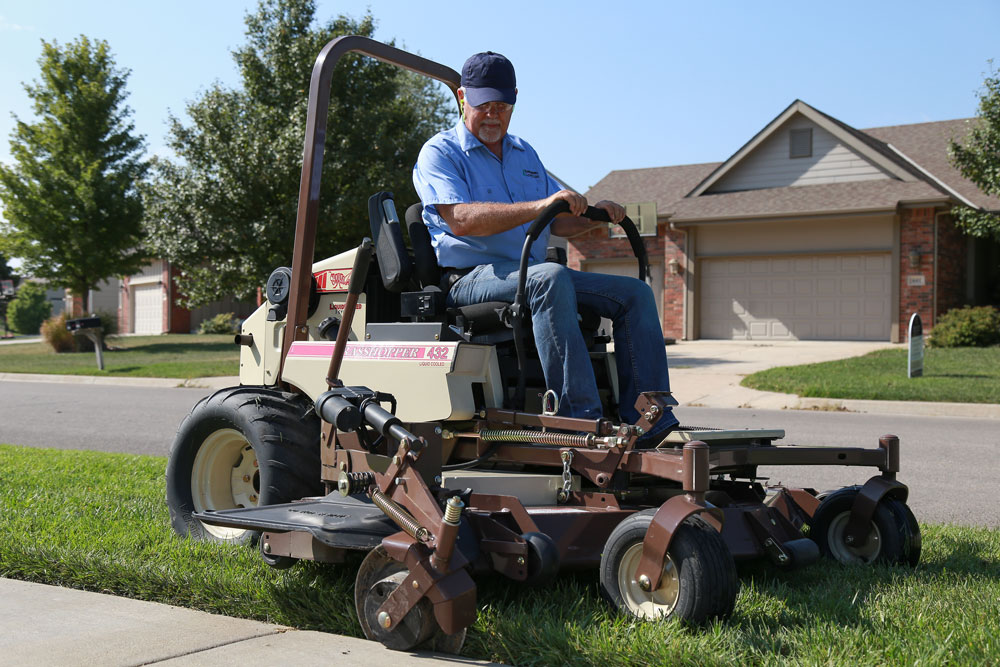 Edge-EZ™ Edger
Creates clean, sharp turf edges along sidewalks, roadways and driveways, eliminating time-consuming secondary trimming and reducing edging time up to 75 percent compared to hand-held string trimmers and walk-behind wheeled edgers.
---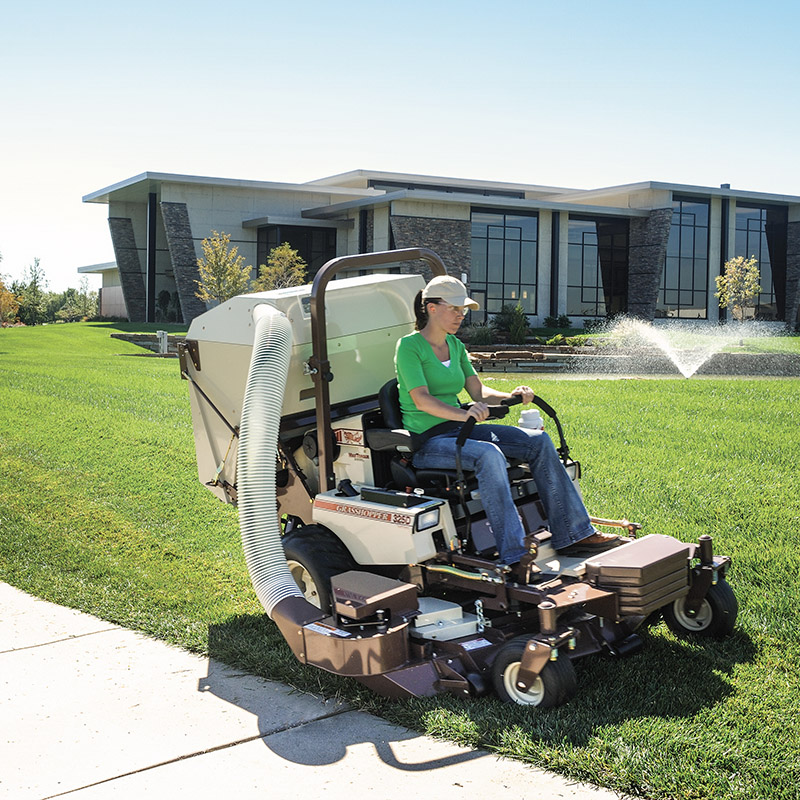 MidMount™ PowerVac™ Collection Systems
With a PowerVac™ Collection System for your Grasshopper zero-turn mower, you're getting the most powerful, maneuverable and efficient leaf-collecting, grass-catching and debris-removing equipment available for turf. You'll get a professional, finished look every time you mow.
---