100V Series
Model

127V


Air

-

Cooled

Gas

Delivering the same comfort, performance and durability of larger Grasshopper models, this small-frame mower offers a compact wheelbase that provides easy transport on trailers and fits easily into shops or garages with limited space.

Deck Sizes: 132 cm
Mowing speeds up to 12.9 KPH and 1.53 hectares/hr. based on 132 cm cutting width.* *Actual result may vary.
*Actual results may vary. Click Here for Details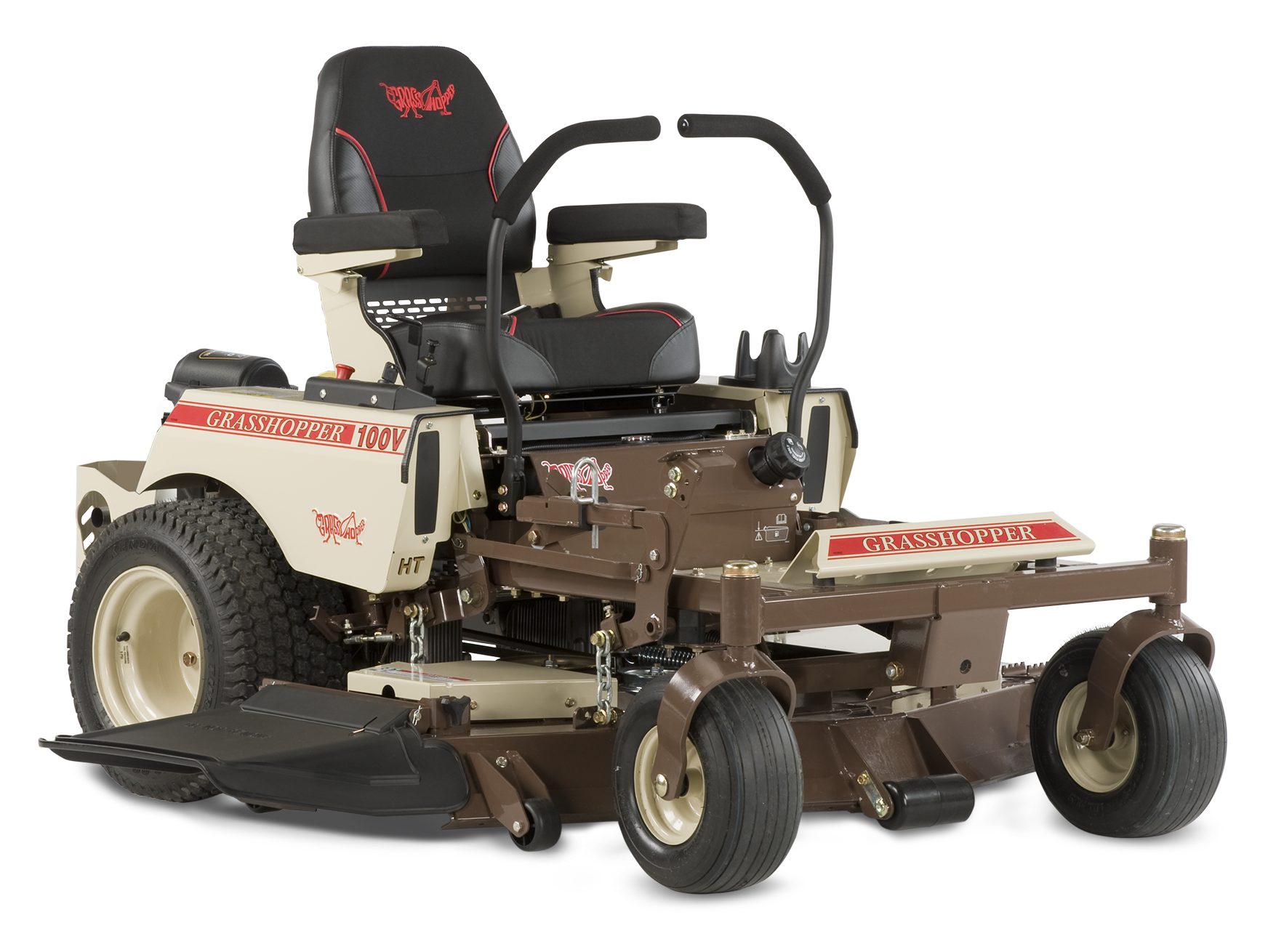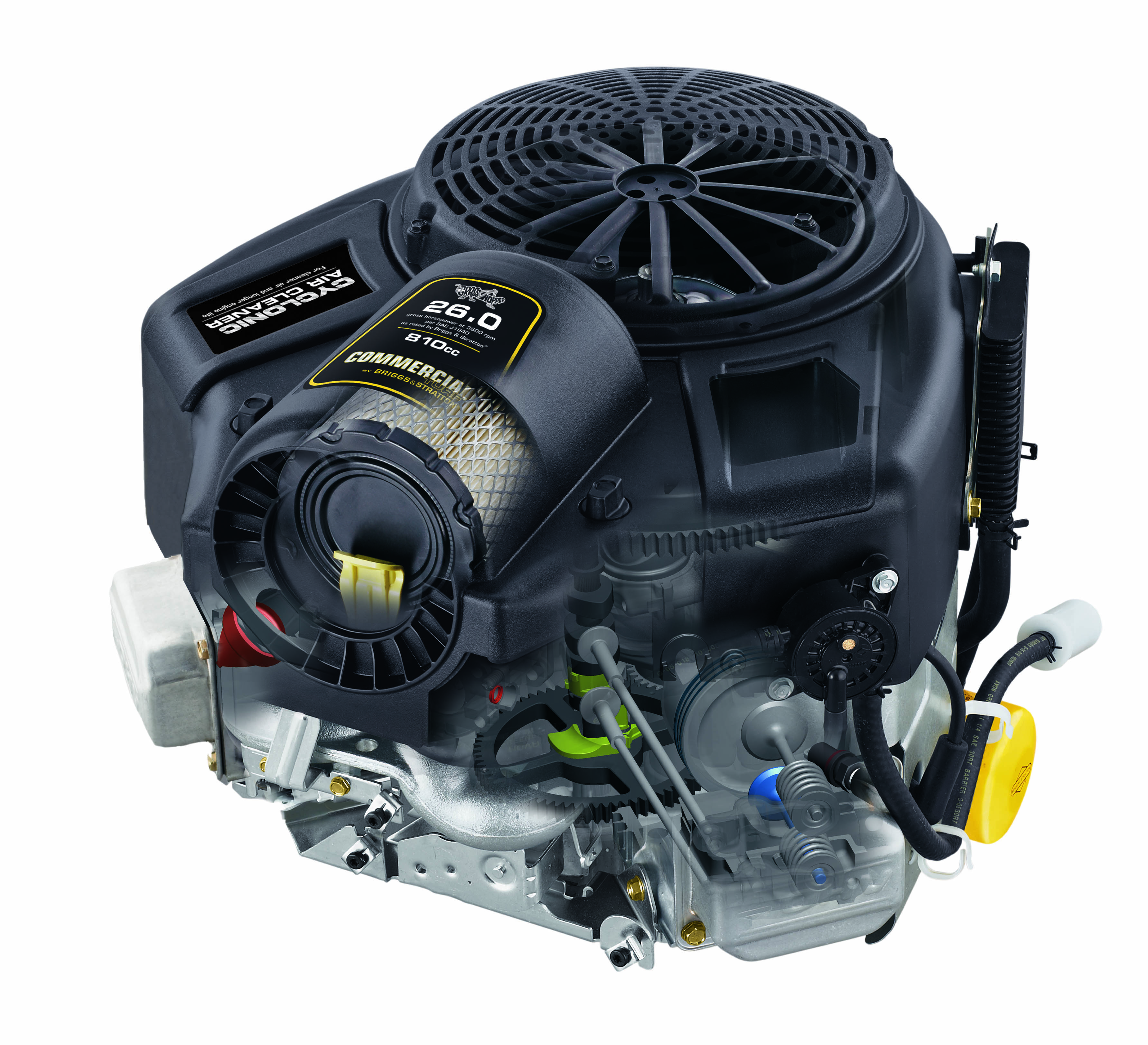 B&S Commercial Turf Engine
Powerful 810 cc (49.4 cu. in.) Commercial Turf OHV V-Twin engine
Heavy-duty components enhance power and reliability
Five-step, Integrated Cyclonic Air Management System for cleaner performance
Extended maintenance intervals
Three-year limited commercial engine manufacturer warranty (see dealer for details)
---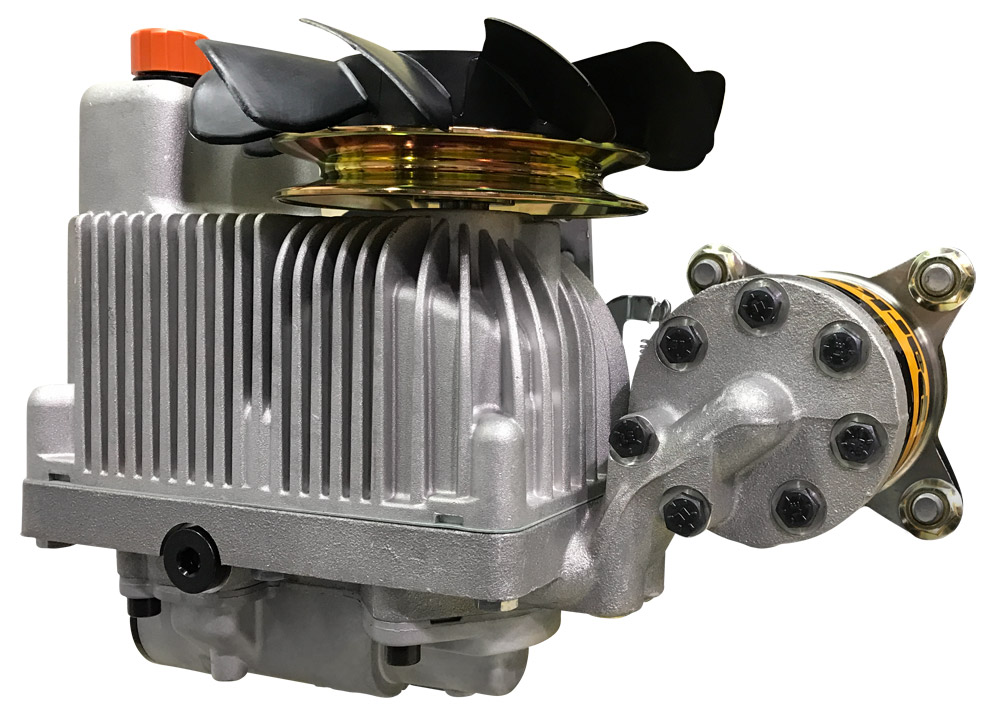 Design-Matched Integrated Transmission
Parker HT integrated pump-wheel-motor drives fully engineered to match design with in-line cooling fans and fine particle filtration
No power reducer or other wearing parts for longer life
It offers best-in-class transmission fluid drain intervals with no break-in period, reducing maintenance costs and time
---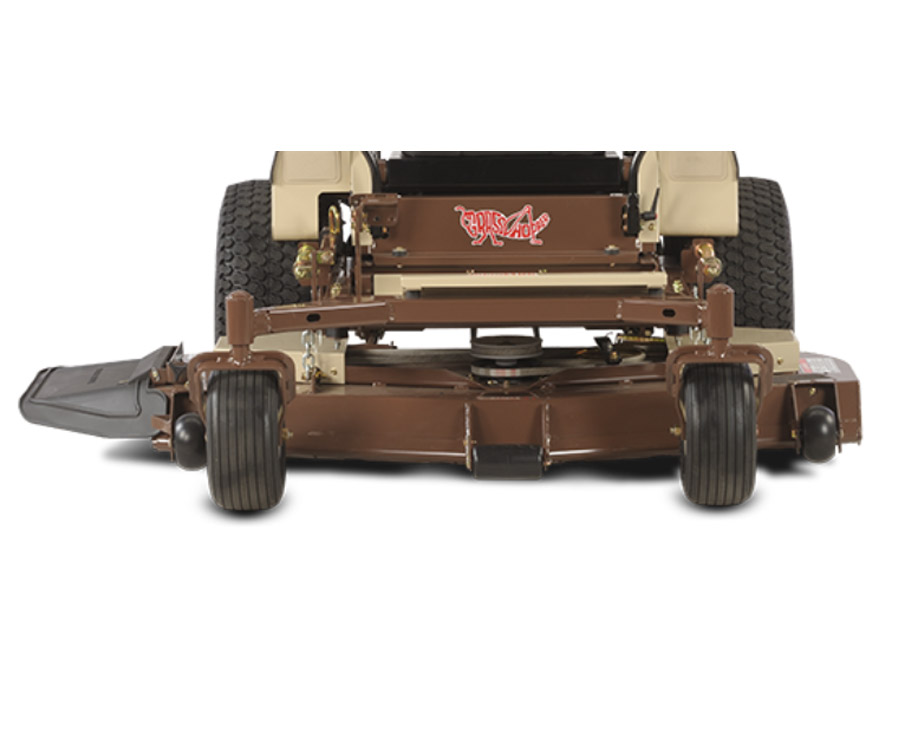 Heavy-duty Deck
Extra-deep, 5.5-inch deck is fabricated from heavy-gauge formed steel with a reinforced anvil edge
Specially designed cutting chambers enhance airflow for better cut quality
Deck easily converts from side discharge to optional Down Discharge™ mulching or PowerVac™ collection
Sentry™ spindles with massive, 8-inch flanges anchored in a 6-bolt pattern, spread the force of impact for greater strength
Spindle planes fabricated from double-layered, 10-gauge plus 10-gauge formed steel laminate that is 0.269 inch thick 7.6 percent thicker than ¼-inch steel
Sentry™ spindle guards shield spindle housing and seal lower bearings from fiber wrap and dirt ingestion
---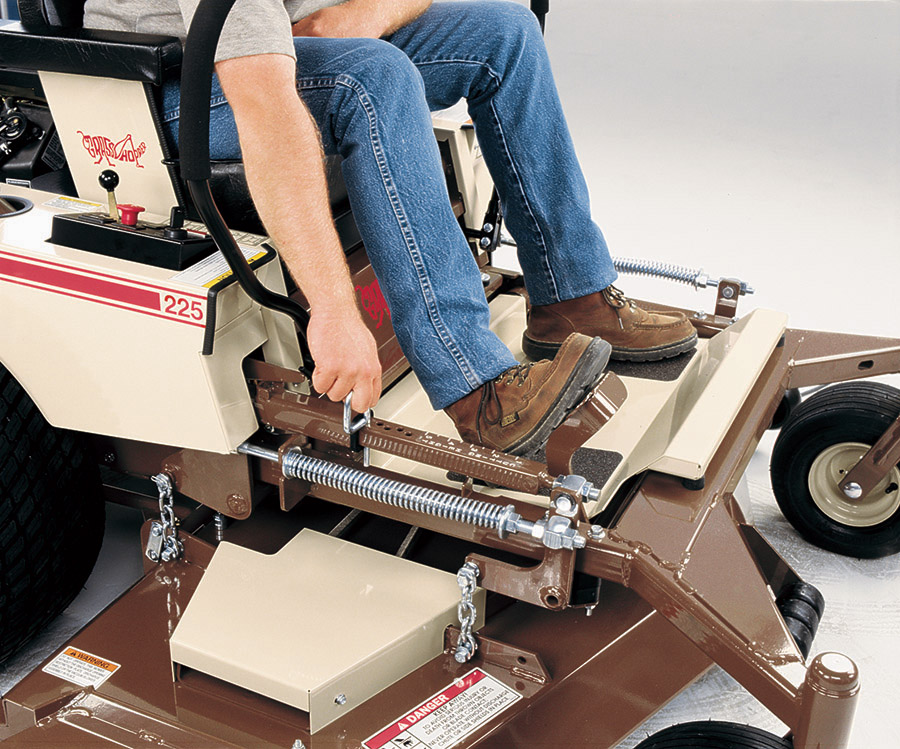 QuikAjust™ Drop Pin Height Adjustment
Raise and lower the deck easily with foot pedal and drop pin for precision cutting heights between 1.0 and 5.0 inches.
---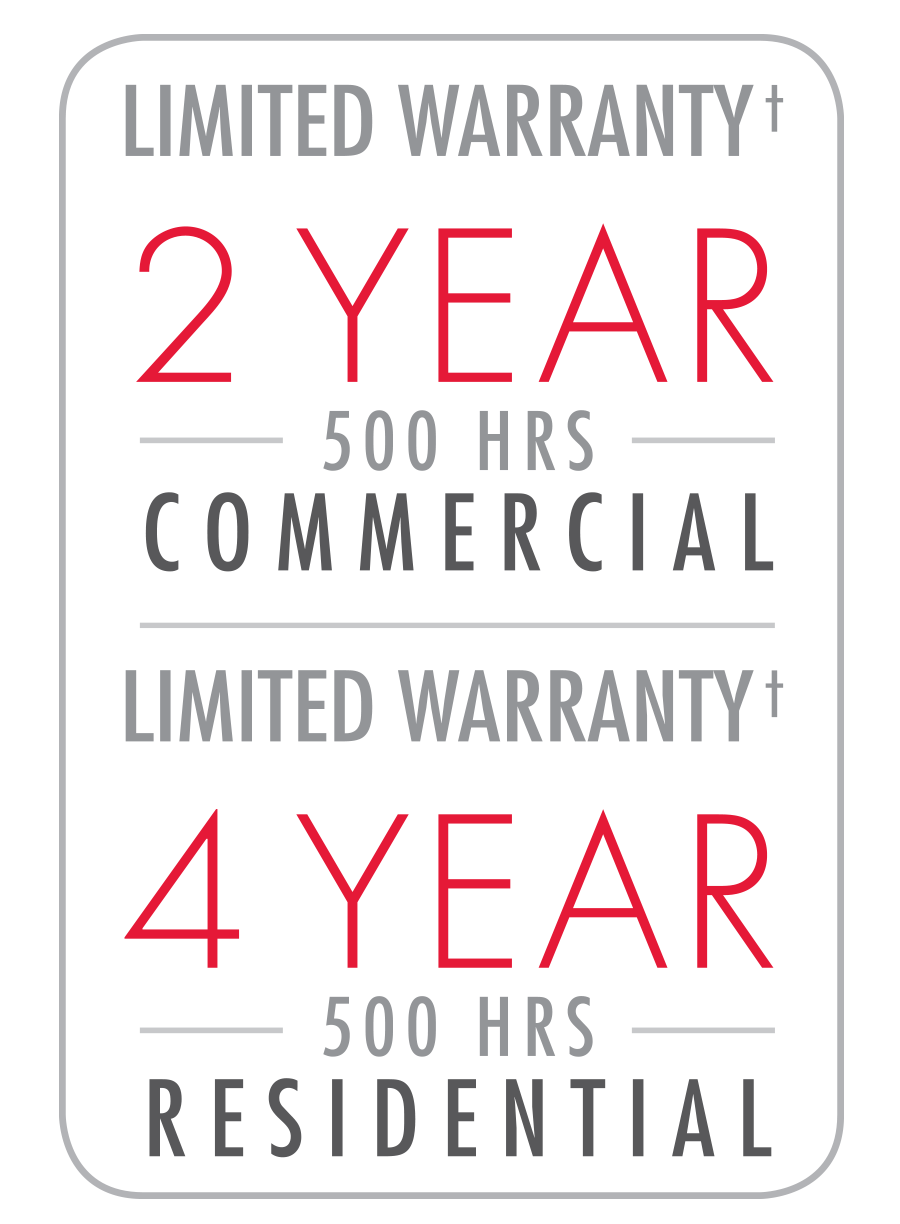 Warranty
Commercial Use: 2-year or 500-hour (whichever comes first); limited warranty covering parts and labor.
Residential Use: 4-year or 500-hour (whichever comes first); limited warranty covering parts and labor.
---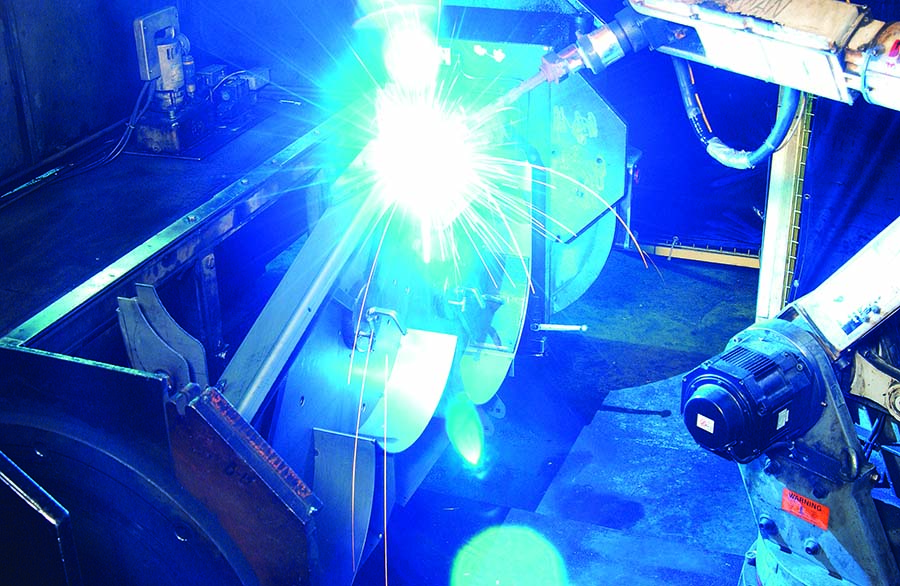 Rugged Construction
Robotically-welded steel construction for long-lasting durability
Centered-bearing design provides greater load-bearing capacity to handle the weight of operator, fuel and high-capacity collector with reserve strength for curb shocks and weight shifts
Tough-as-nails powder-coated finish is fusion-bonded for chip and rust resistance
---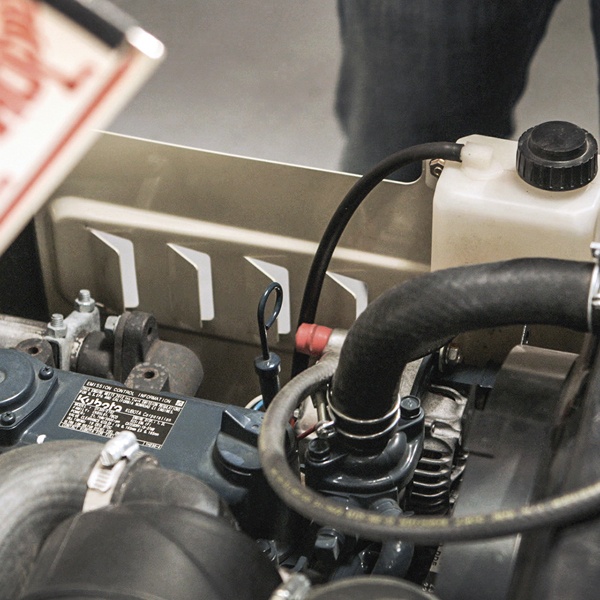 Reduced Maintenance
Only two Access-Eze™ lubrication points cut maintenance time up to 95%
Self-tensioning belts minimize cost and labor on routine maintenance
---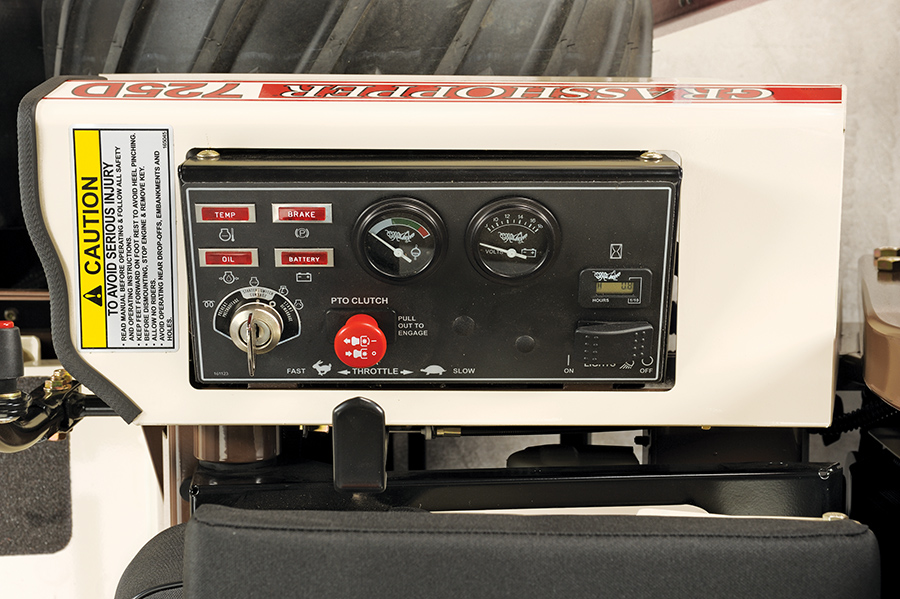 Ultimate Operator Station™: View-Eze™ Console
Operational controls including throttle, choke and angled View-Eze™ console and adjustable cup holder are well positioned for visibility and ease of reach.
---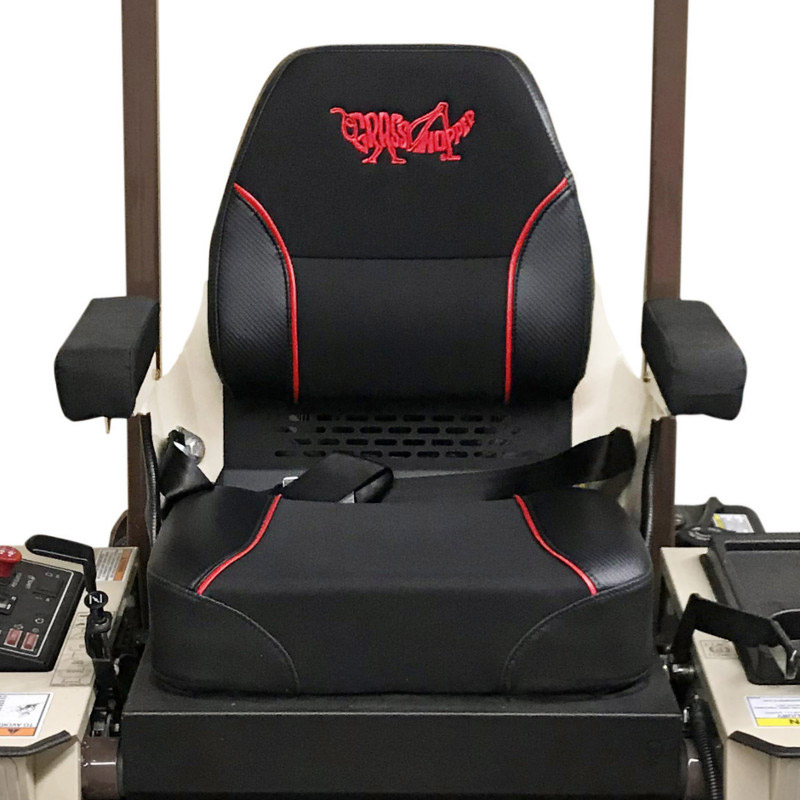 Ultimate Operator Station™: Premium Comfort Seat with slide
The deep-cushioned, deluxe Premium Comfort Seat features a coil-spring suspension and padded lumbar support with sliding 2-inch fore and aft adjustment for all-day comfort. Iso-mounting eliminates vibration before it reaches the seat, and both padded seat and foldable armrests are covered in scuff-resistant, breathable CoolTemp Cordura® fabric, which dissipates heat and won't tear or crack with extended use.
---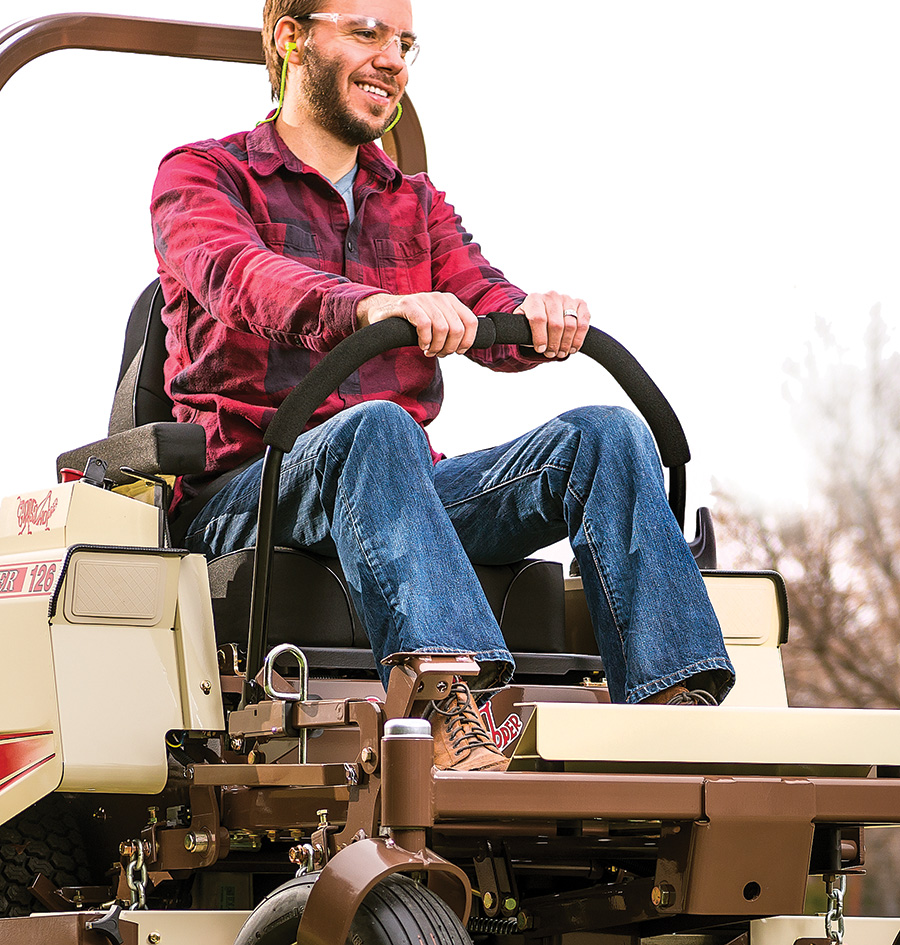 Ultimate Operator Station™: ComfortReach™ Levers
One- or two-handed operation with ComfortReach™ adjustable Hydra-Smooth™ dual levers that automatically return to neutral from either forward or reverse position.
---
Shock Impact Reduction System™(SIRS™)
Unrivaled comfort with iso-mounted Ultimate Suspension Ride™ scuff-resistant, Cordura®-covered, deep-cushioned, high-back seat with padded lumbar support and armrests
Roomy, iso-mounted, shock-absorbing footrest
---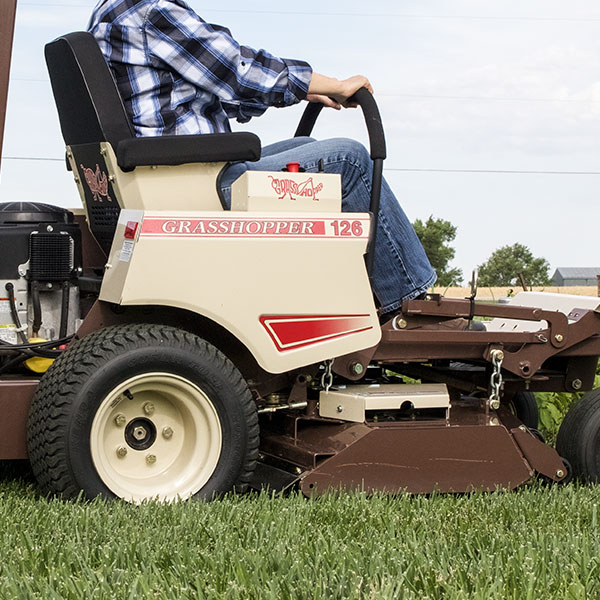 4X Rear Discharge Deck
Dedicated 48- or 52-inch rear discharge decks throw clippings out back for a smooth cut and no windrowing.
---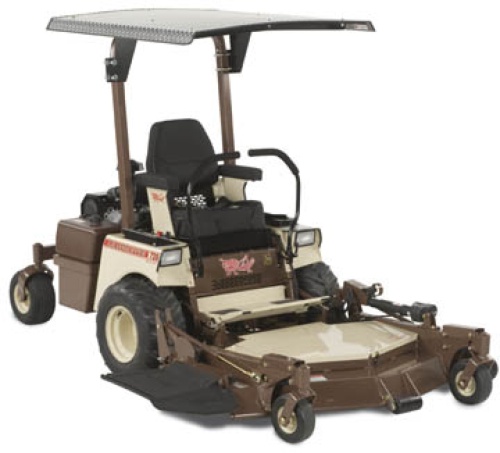 Sunshade Canopy Aluminum for ROPS
Diamond-plated aluminum canopy is highly resistant to abrasions. Easily mounts to ROPS to increase operator comfort by limiting exposure to direct sunlight and reducing eye strain.
---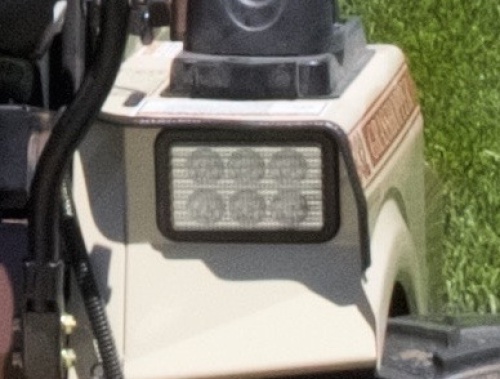 LED Work Lights
LED work lights provide improved visibility in low light situations.
---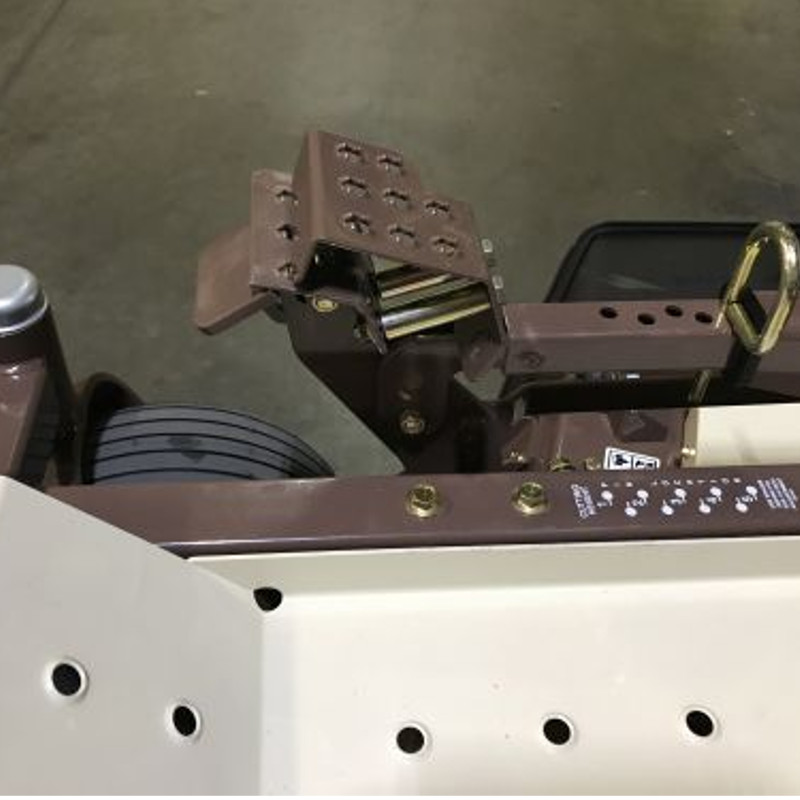 Foot Pedal Extension Kit
Extends foot pedals to allow easy height control for shorter operators.
---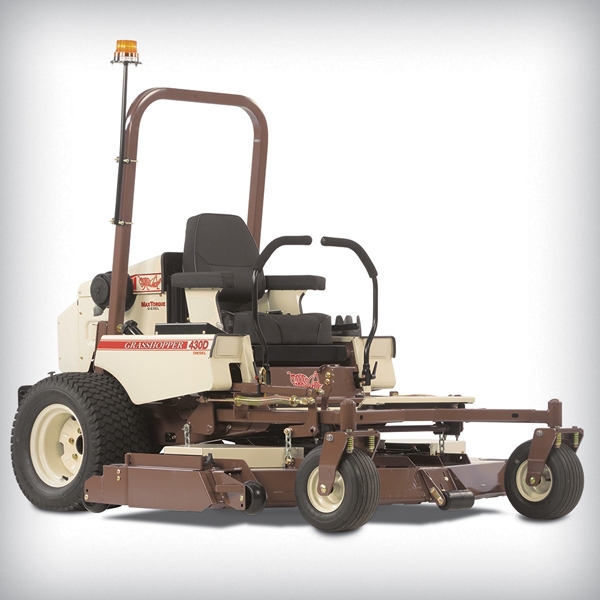 Down Discharge™ Mulching Package
The Down Discharge™ mulching package with GrassMax™ medium-lift blades cuts and recuts clippings and directs them deep into the grass bed, enriching turf and producing a beautifully manicured cut.
---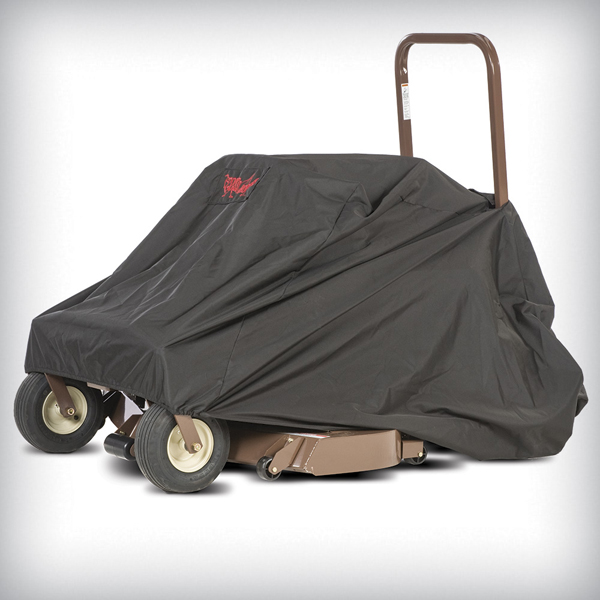 Custom Cordura® Weather Cover
Weather-resistant, black Cordura fabric cover with embroidered Grasshopper logo keeps seat and engine area protected during storage or between mowings. Slips over ROPS, with Velcro closure to secure the opening.
---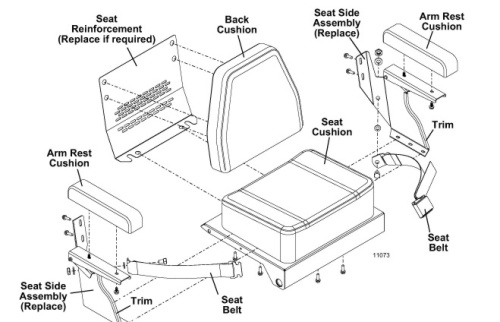 Wide Seat Conversion Kit
Provides additional seating room for larger operators or to accommodate cell phones or pagers. Requires seat belt extension.
---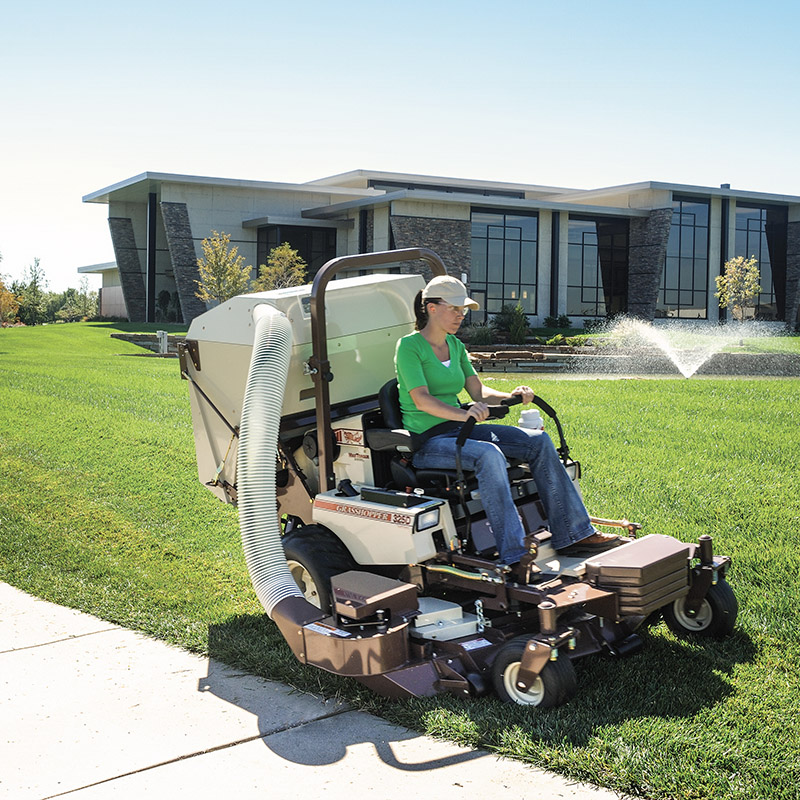 MidMount™ PowerVac™ Collection Systems
With a PowerVac™ Collection System for your Grasshopper zero-turn mower, you're getting the most powerful, maneuverable and efficient leaf-collecting, grass-catching and debris-removing equipment available for turf. You'll get a professional, finished look every time you mow.
---